Here you can get an well tested quality charger that will charge you battery in a safe way both for risk of fire but also the most reliable treatment for your battery as it will newer overcharger your expensive 60 Volt  battery.
We offer this charger for all type of scooter and e-bikes. Just select the Input and Output plug from below picture
Some of the most used DC-Plug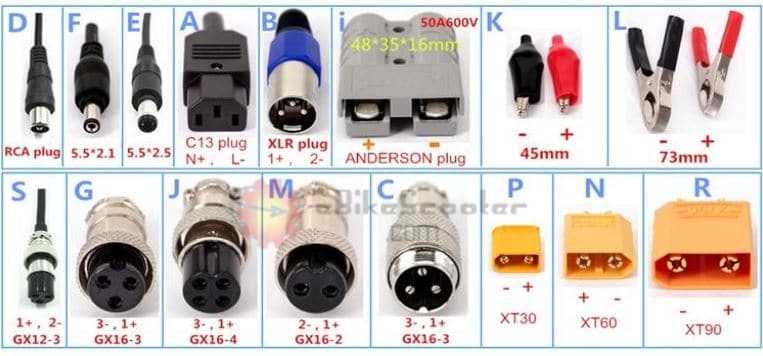 AC-plug type selection

Protection
Over current protection / Over voltage "protection / Short Circuit Protection / Reverse Connection Protection
Product Advantage
Dual color LED indicator:Red means Charing,Green means full charged.With 3 years warranty.
Constant current, constant pressure dual scheme design, perfectly conform to the lithium battery charging characteristics.
The two way average flow scheme is used, when one of them is damaged, only the charging current is reduced by half, and it can be used.
The charging time is adjustable, with LED indication, precision voltage and current detection, effectively preventing overcharge and completely eliminating charge of discontent and so on.
The input and output lines use high quality wires, corrosion resistance, and no cracking.
The shell is PC industrial raw material, fire retardant and flame retardant, temperature resistance 75 C.
With output short circuit protection, even if the output short circuit will not damage the power supply, when the output short circuit release, the power supply is still normal output.
It has the function of soft start, can withstand frequent switch start, will not cause damage to the power supply.
The enclosure with a fixed installation hole, with a terminal, the input and output connection is extremely simple, no need to use a soldering iron.
The DC current is precise IC control, non single triode constant current. Each cycle is monitored and the current limiting circuit is designed to prevent charge current from being too high, protect battery and extend battery life.
Built-in EMI filter device, anti lightning, surge voltage design.
Capacitance: capacitance is -40 C-105 C and C long life. The main products of international Dachang are ruby, black diamond, TOCON, YALECON and so on.Transistor: mainly used Silan, SILAN, ST, Fairchild.
Input Voltage

100-240Vac 47-63Hz

Case Material

Aluminum

Charge Voltage and Current

 67.2V 4A/5A

Charge Method

 CC/CV

 Size

205x121x50 mm

      Weight

1.2 KG

Operating Temperature

-20℃ ~ +50℃

Storage Temperature

-40℃~ +80℃

Warranty

2 Years

Certificate

 CE/ROHS/FCC/SAA

The inditorr of LED: "RED" Means Charging   "Green" Means Full of Electricity