Features:
If you usually ride a Motorcycle for a long time, you should choose this kind of Protective Armor Protective Gear to effectively protect yourself, when you in the riding. Protective Armor is made of high-density wear-resistant nylon. Moveable liner allows for easy cleaning, multiple large vents of plastic shells and foam are for maximum ventilation, all of the advantages keep you secure during riding. Actually, it is a necessary for motorcycle rider.
It is wonderful full body armor(back protector, shoulder cups, elbow cups, forearm protector, chest) all attached to a mesh shirt thing
Made of lightweight yet durable stretchable Lycra/mesh net fabric and high impact injection molded plastic
Full zipper front closure. Adjustable straps throughout the arms and shoulders
Removable spine armor with tail protector
Wide elastic waist belt with hook & loop adjustment
Thumb loops keep arm protection in place
This is a Super Quality Armor that you can wear alone or under jackets
Adjustable elastic straps hook & loop close for secure fit,Effectively protect your body
Can be used for motorcycle, bike riding, skiing and skating, and other entertainment.
Specification:
Product Name: Motorcycle Armor Jacket
Brand: HEROBIKER
Gender: Unisex
Material: PVC, Lycra, EVA
Color: Black, Red
Available in size: S, M, L, XL, XXL, XXXL, 4XL, 5XL(If you need 5XL size, you can order 4XL size and leave a message "you need 5XL size", or contact with our customer service, thanks!)
Package Include:
1 x Motorcycle Racing Protective Armor Jacket
Package Include:
1 x Motorcycle Armor Jacket

1 x Motorcycle Neck Protector

1 x Shorts

1 x Knee Protector

1 x Gloves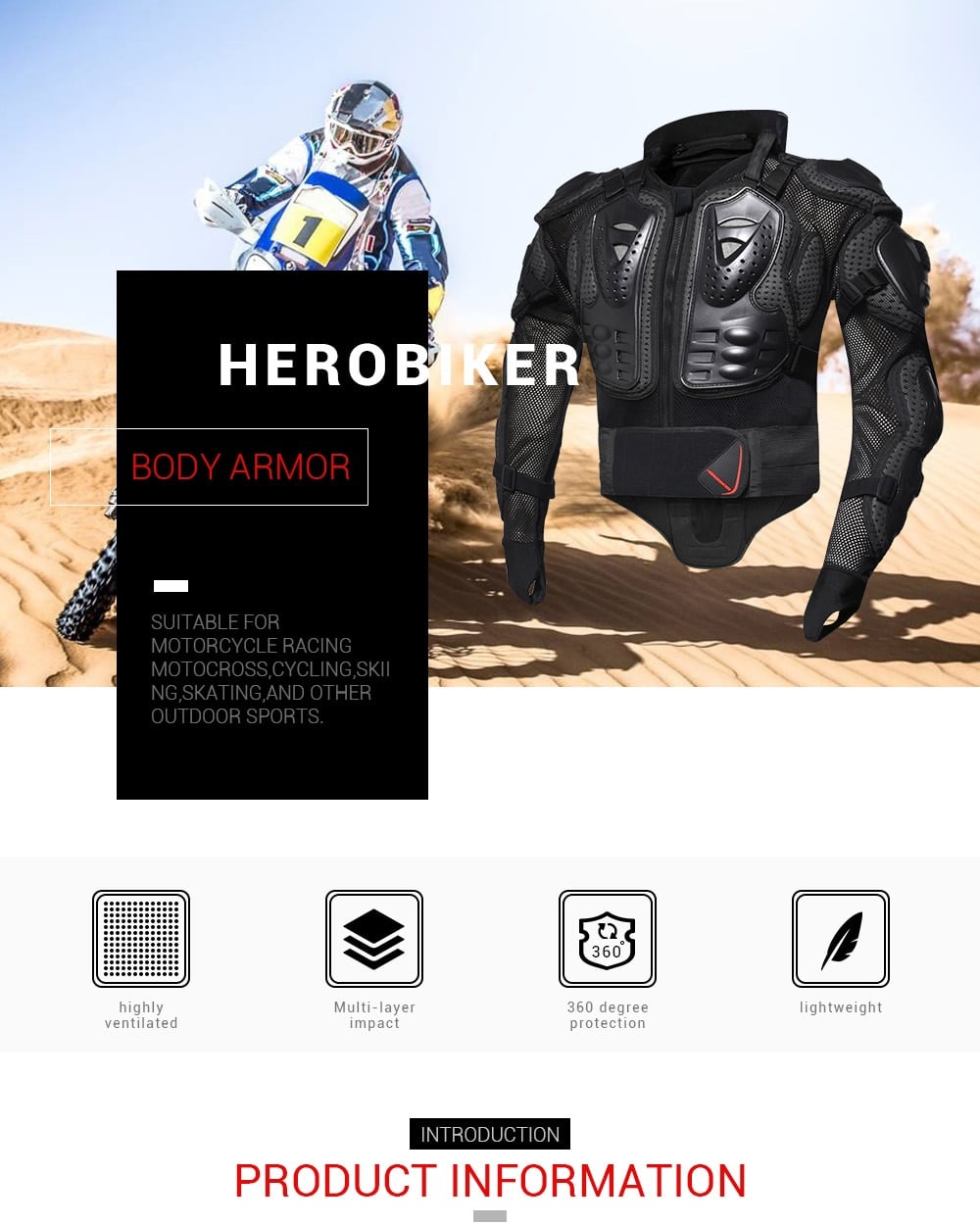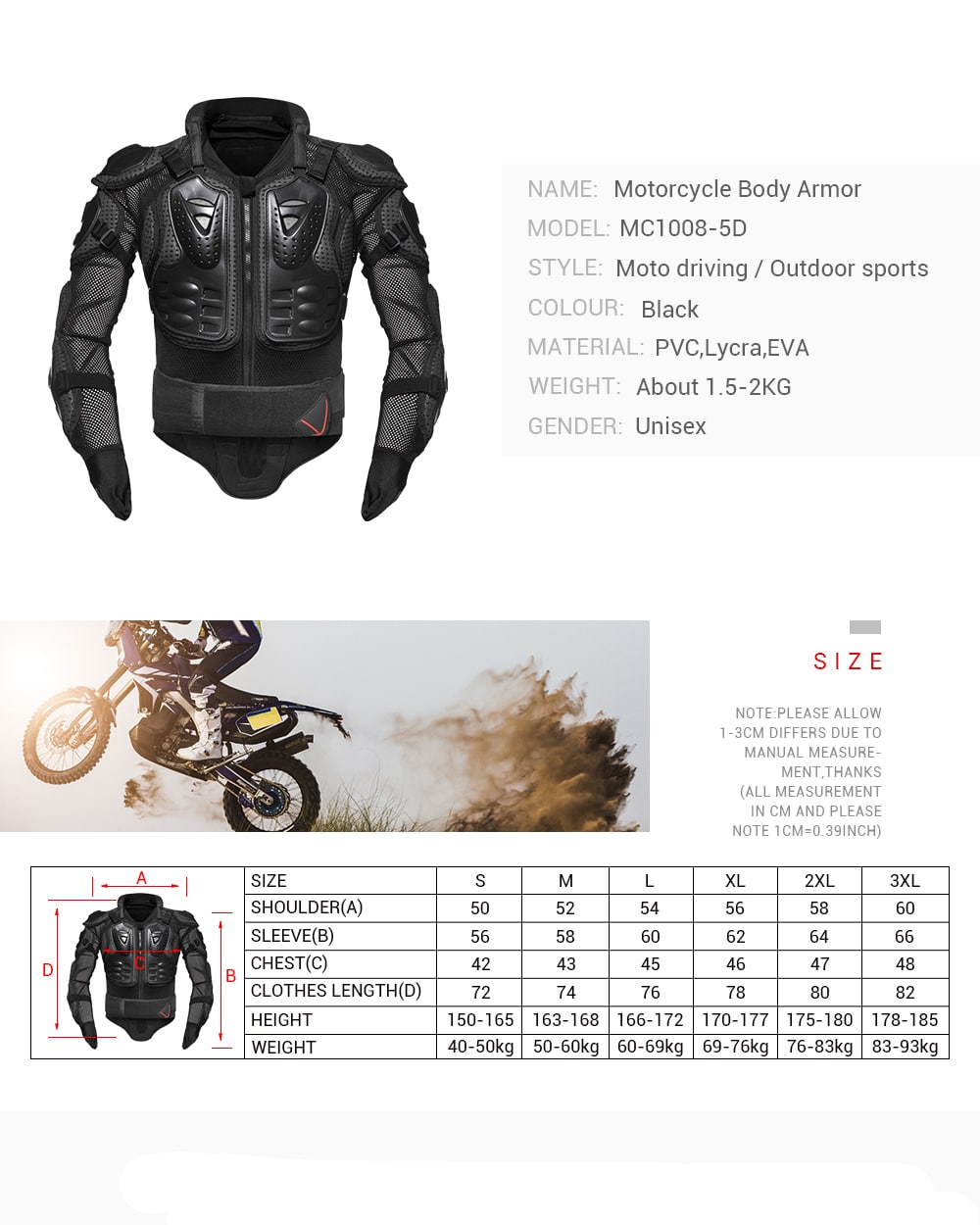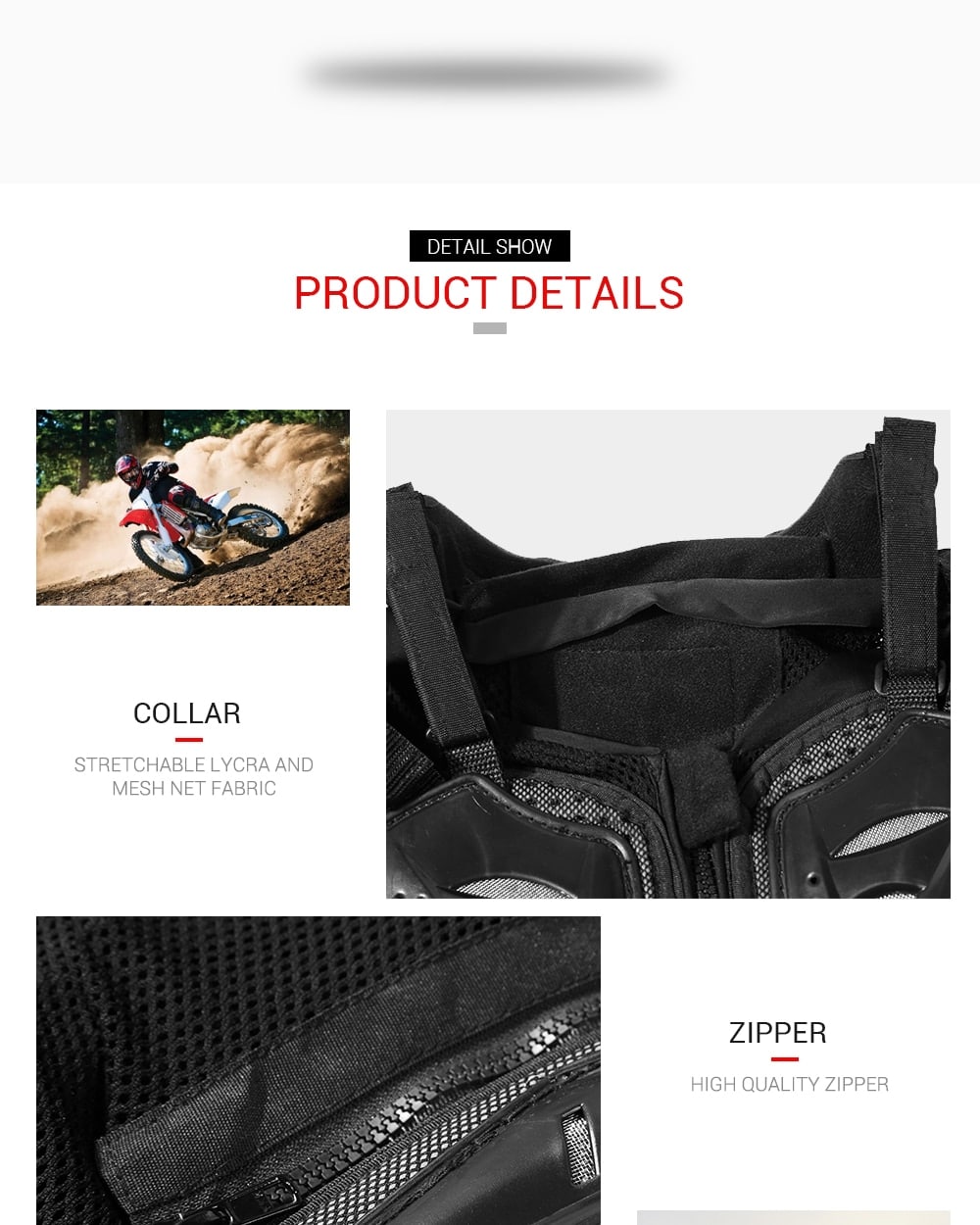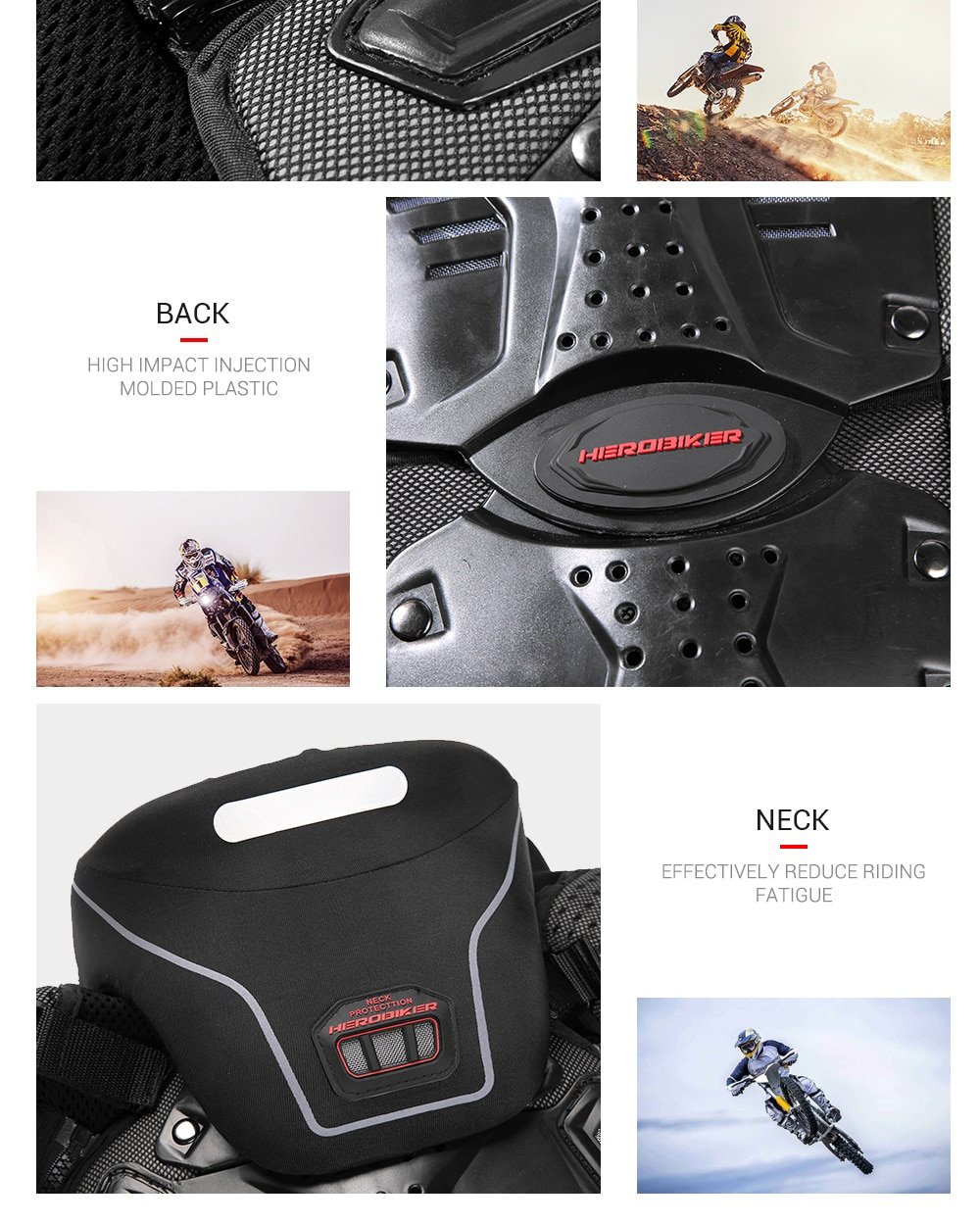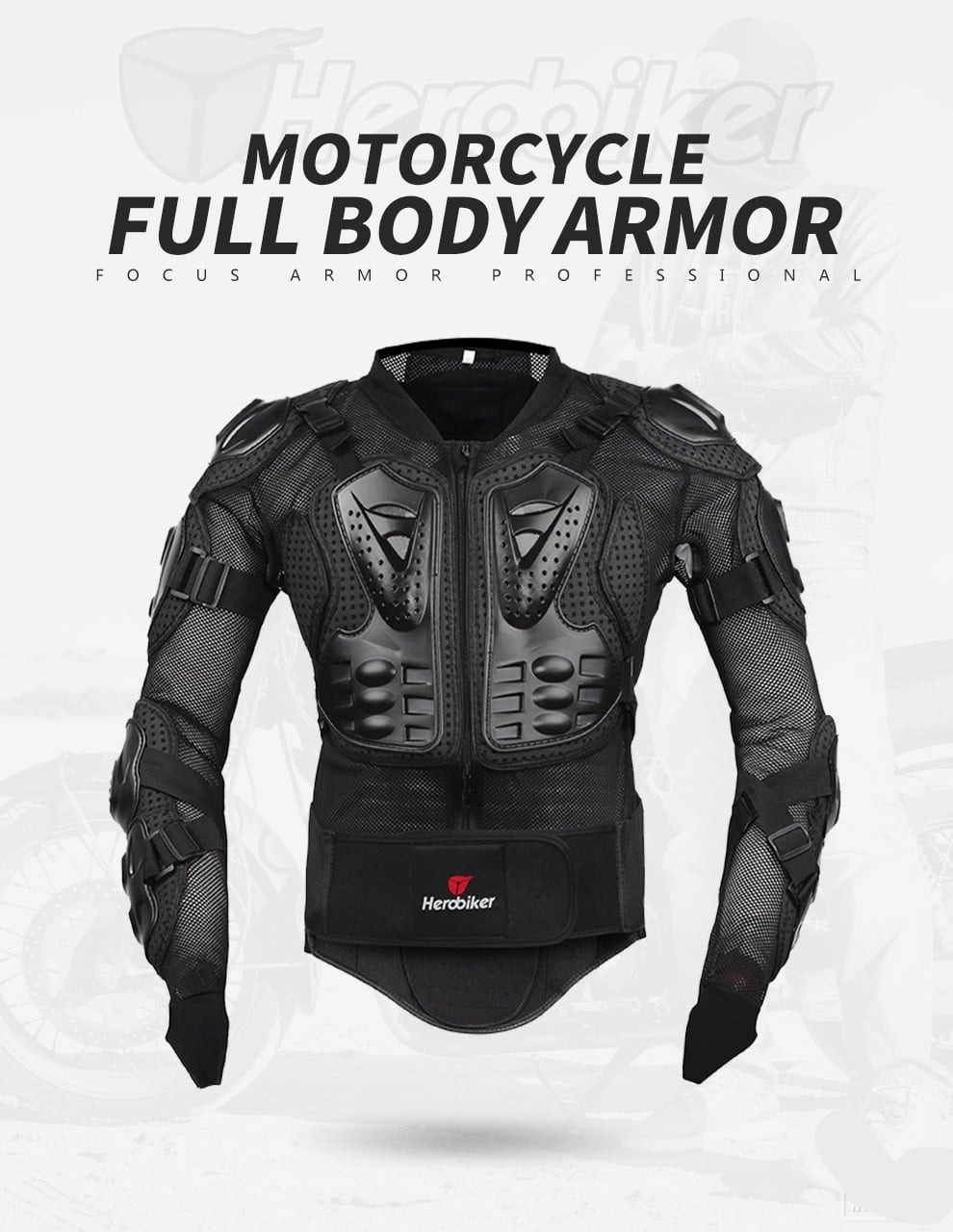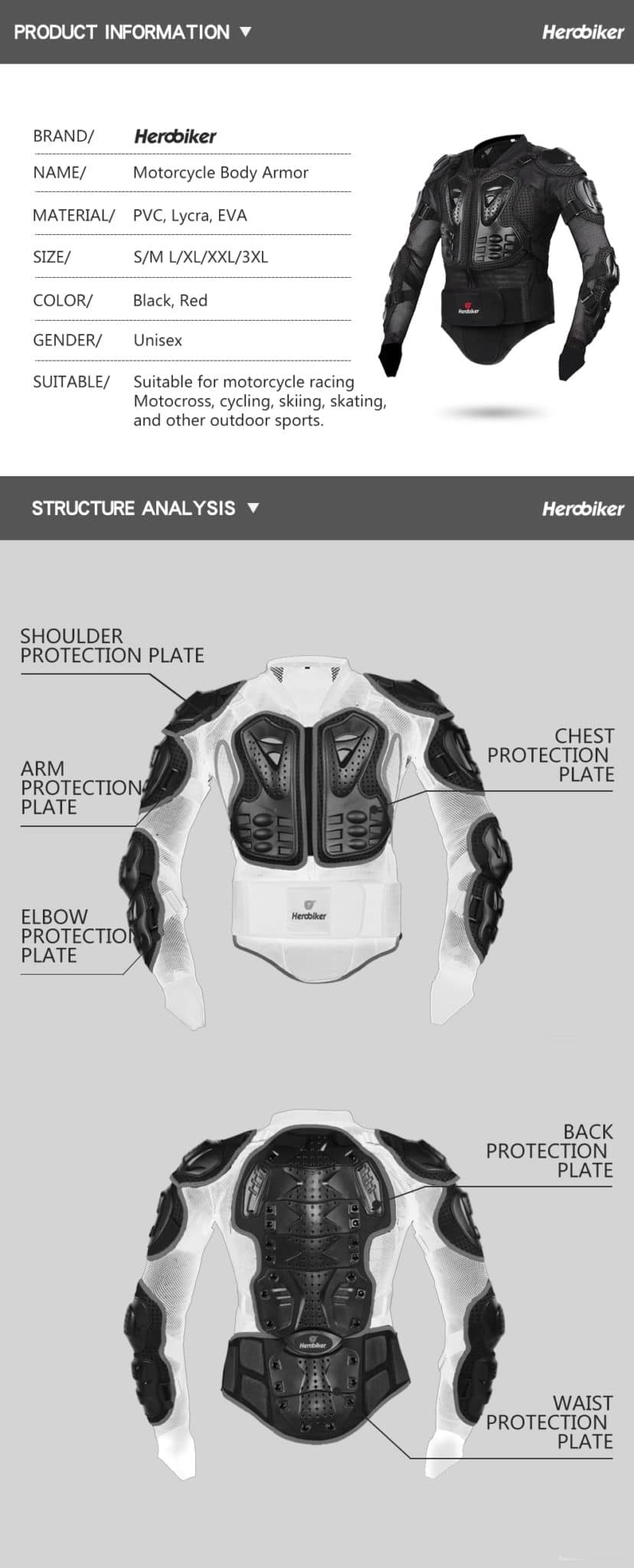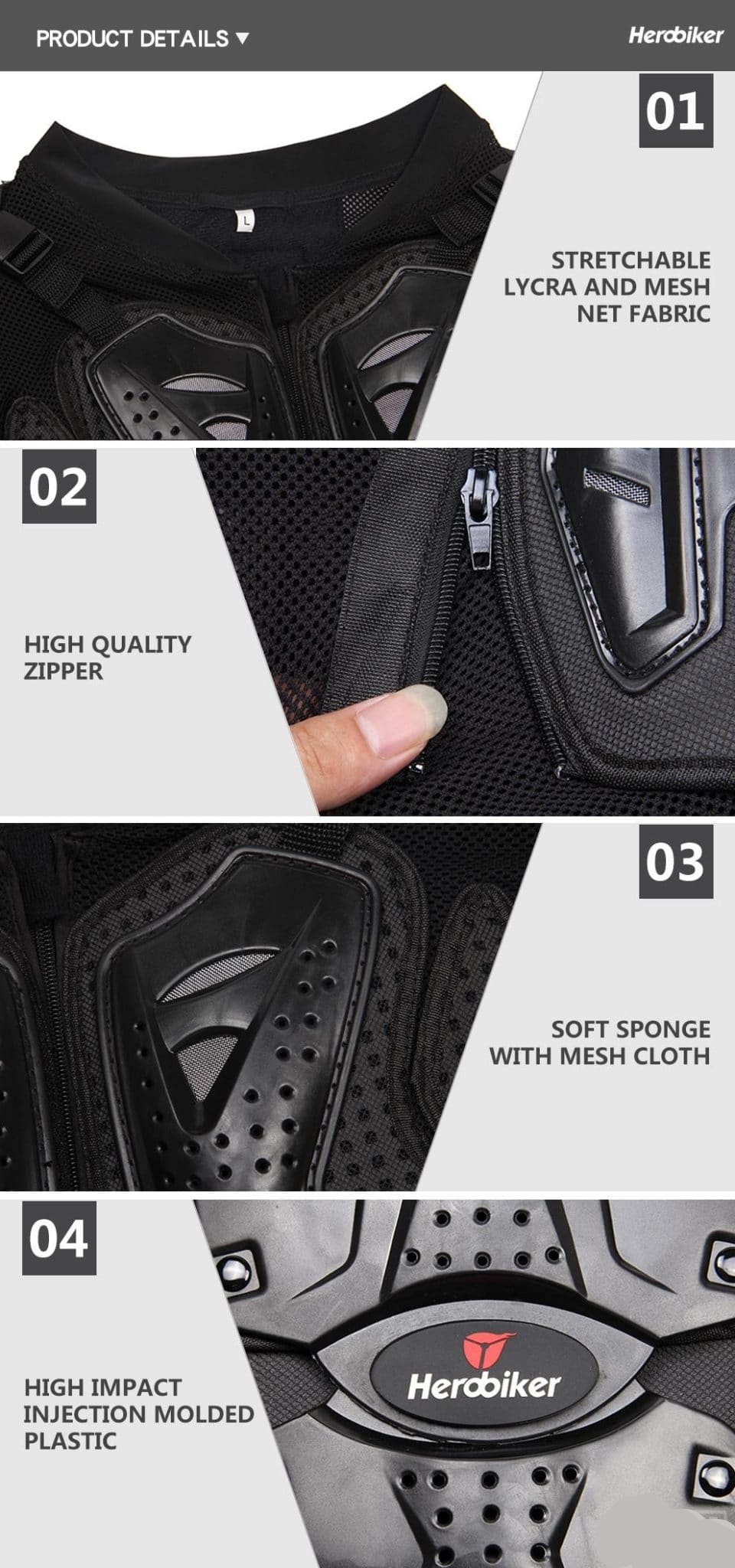 Product Features:
Comfortable, effective protector shorts to use under sportswear.
Recommended for any kind of sport which demands most intensive protection: Motocross, Supermoto, Street Racing, Mountain Biking, Downhill, Trail, Snowboarding, Skating.
Body proportioned shape with bi-elastic Lycra ensures a perfect fit of the protector padding made of memory foam.
Flat double seams, Lycra mesh legs and the Coolmax inset guarantee high wearing comfort
Product Details:
1.Brand: HEROBIKER
2.Excellent protection for the most important part of your body
3.Material: EVA+PVC+Lycra
4.Comfortable wear
5.High shock resistance
6.Color: Black
7. Size: S, M,L,XL,XXL
8. Sex:unisex
9.Weight: 510g(XXL)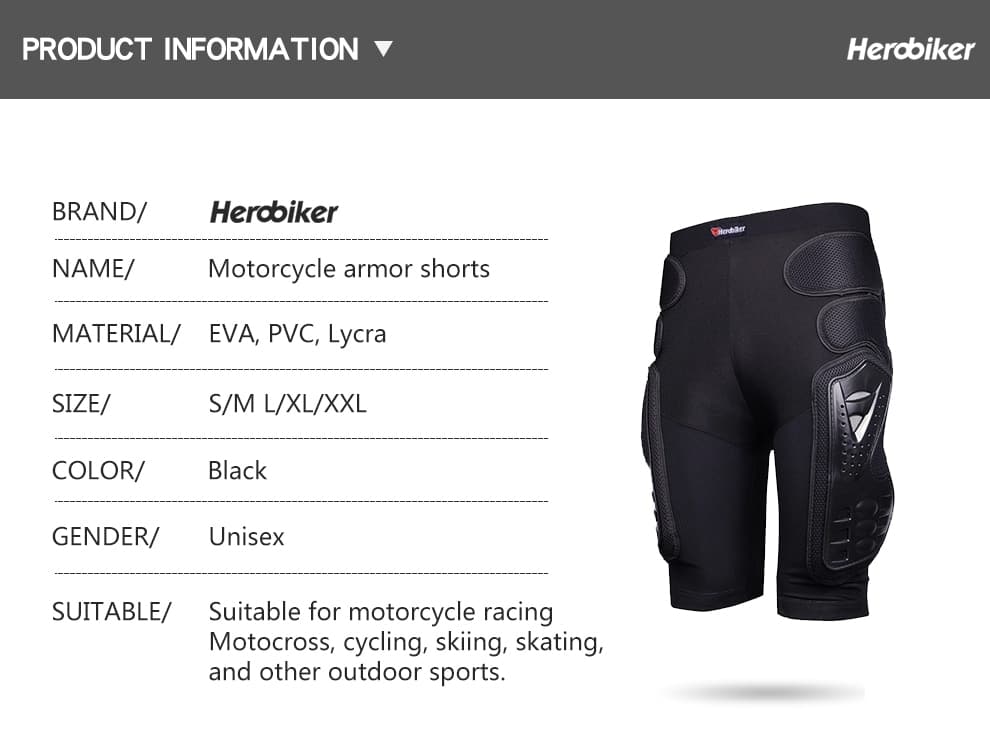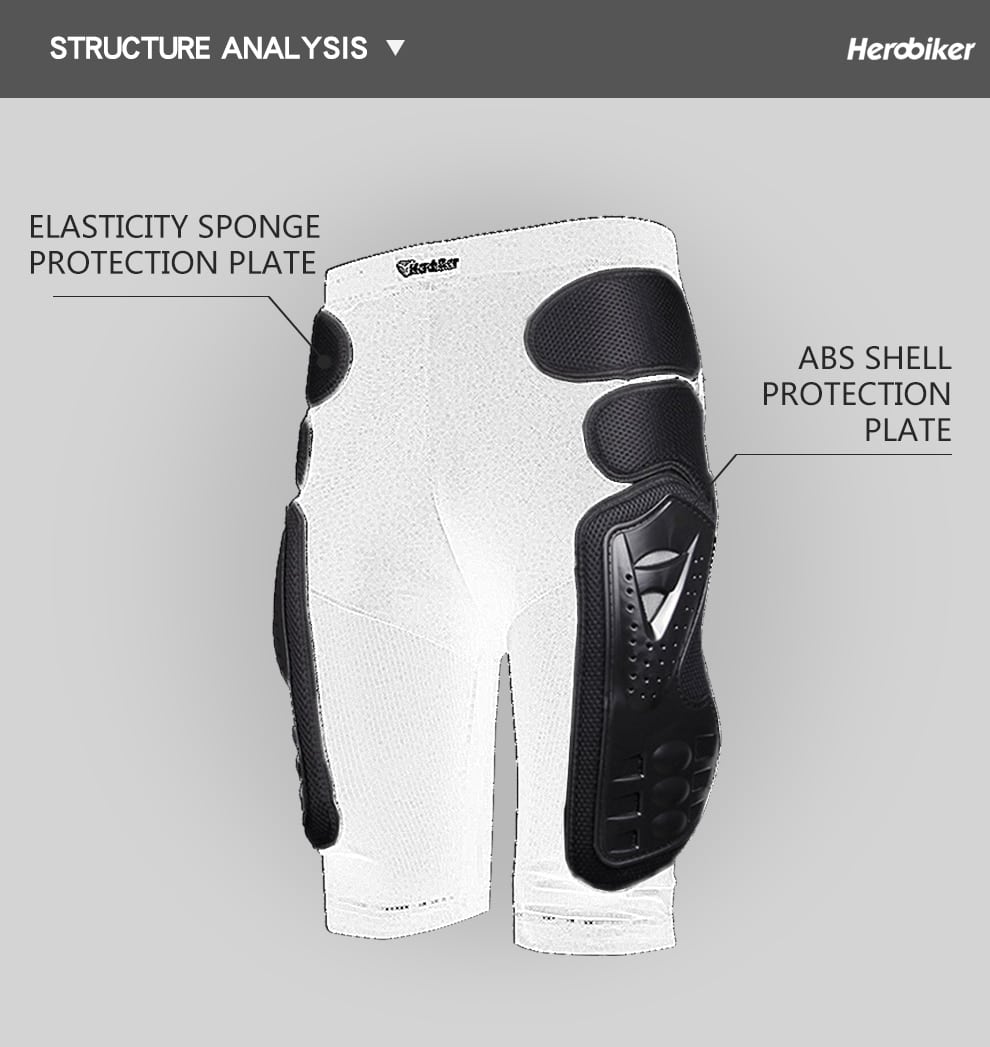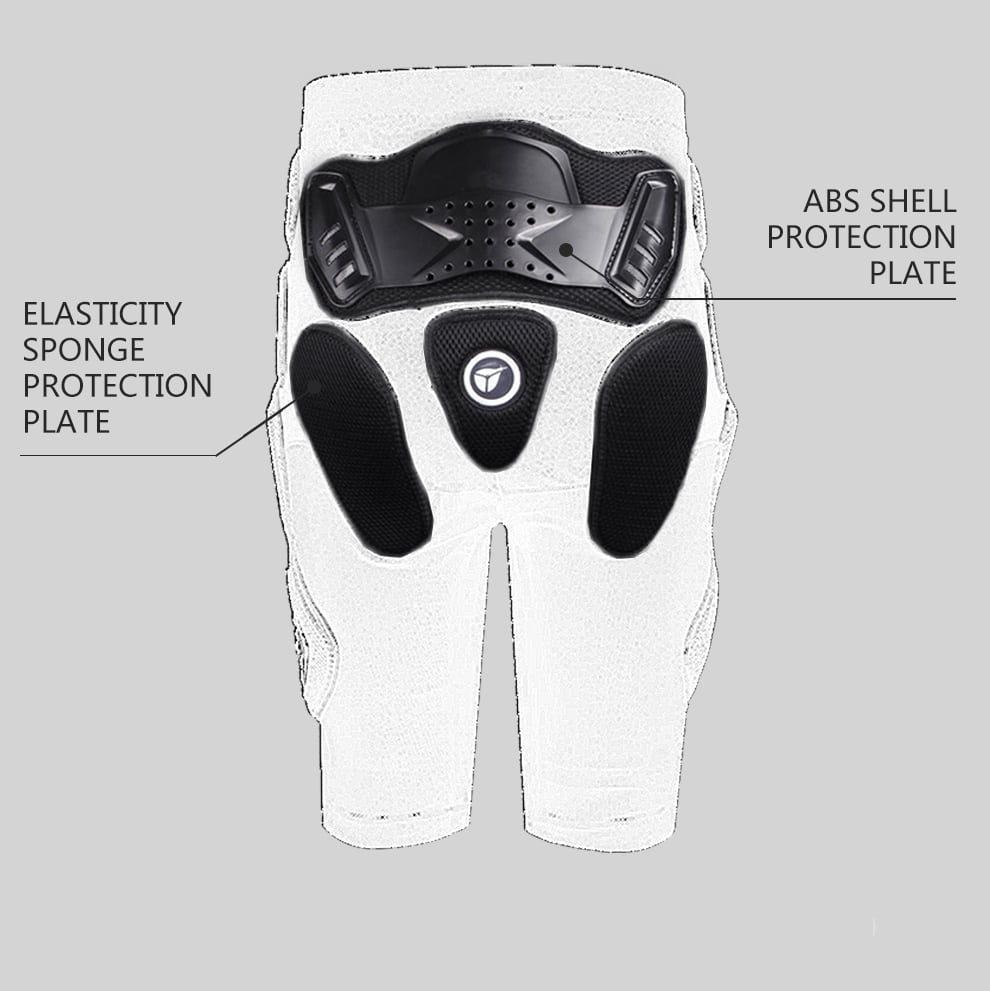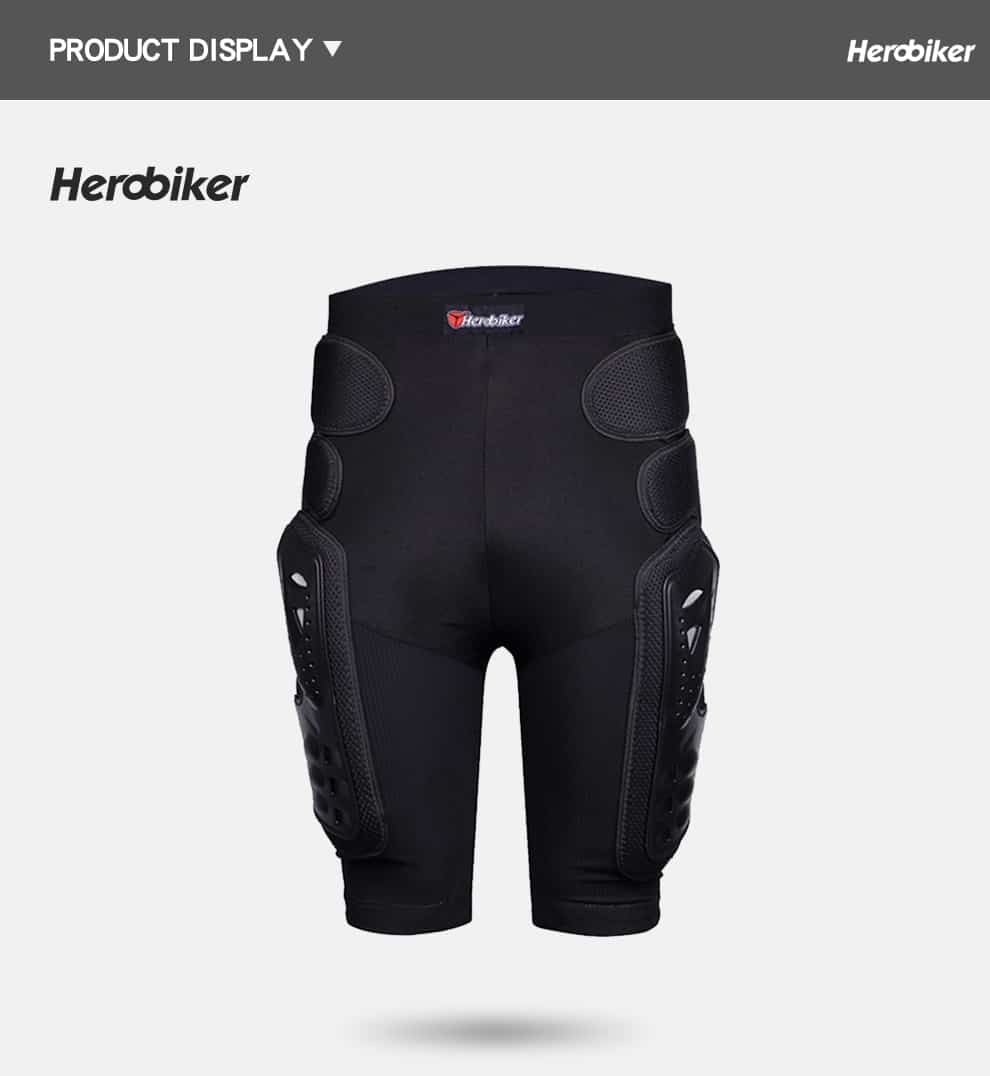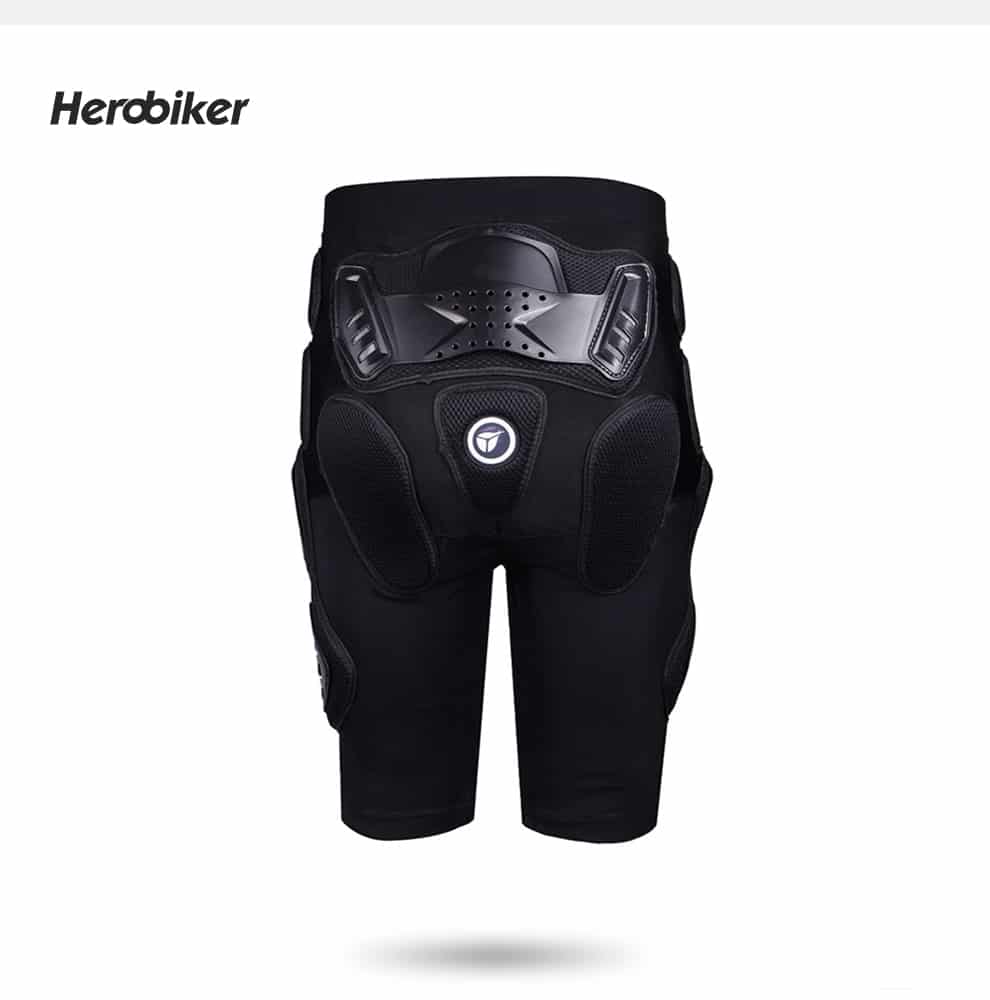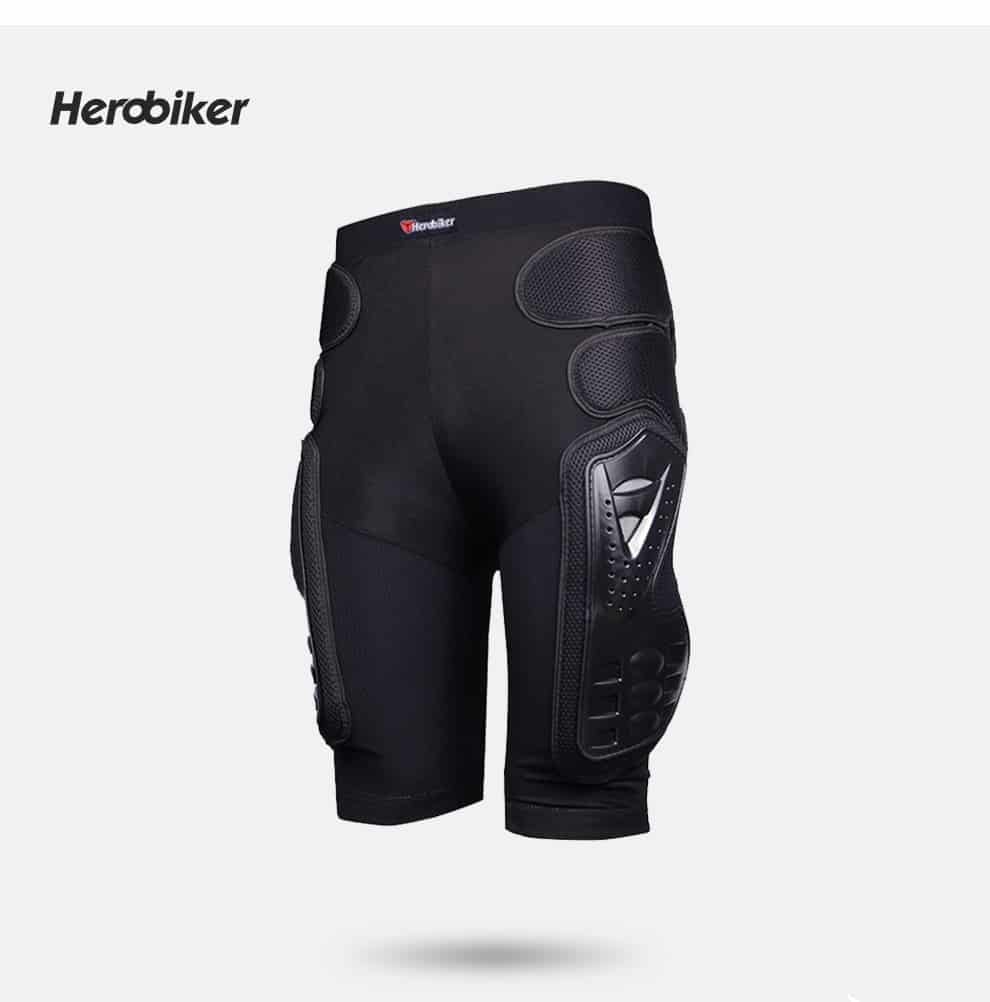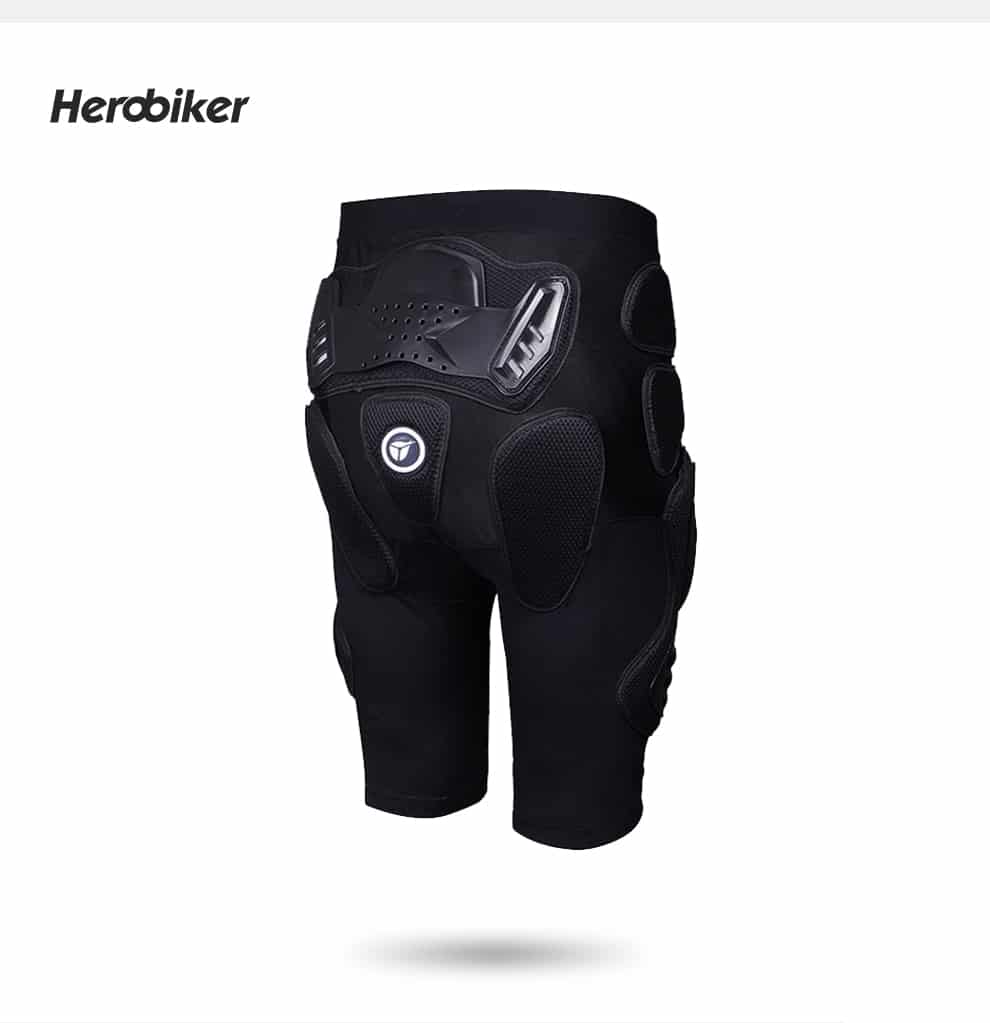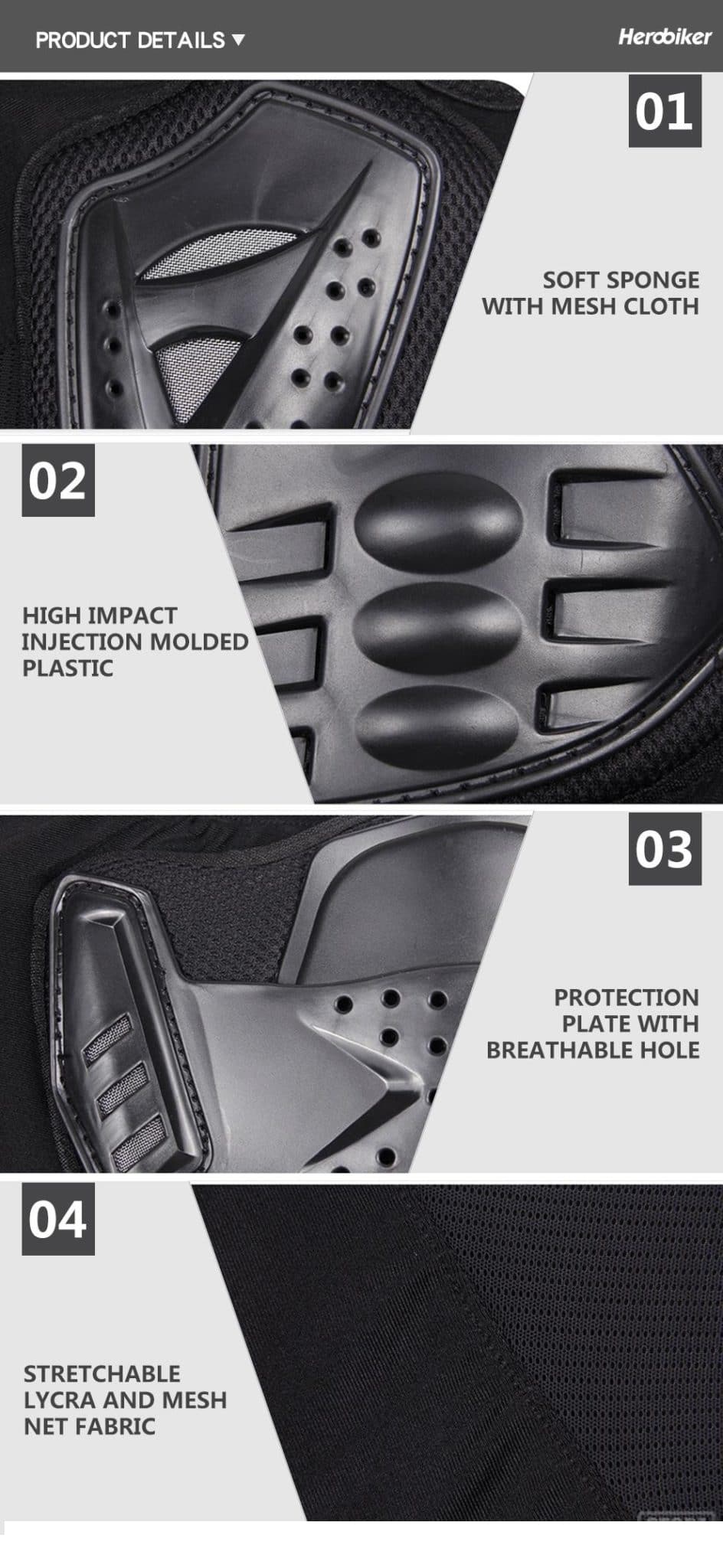 Features:
High quality molded EVA high foaming material minimizes harsh jolts to the knee
Anti collision,Comfortable Sponge Lining
Comfortable Breathable Fabric
Adjustable Elastic Knee pad
Shield Penetration and Impact Resistance
Fits Most,Flexible adjustment
Ergonomically designed for maximum mobility
very elastic, windproof and keep warm
Suitable for skiing, motorcycling, Motocross, snowboarding, MTB, Downhill, airsoft paintball, tactical training and other outdoor activities.
Specifications:
Brand: HEROBIKER
Material: EVA,Nylon,Lycra
Size: Standard (For adult)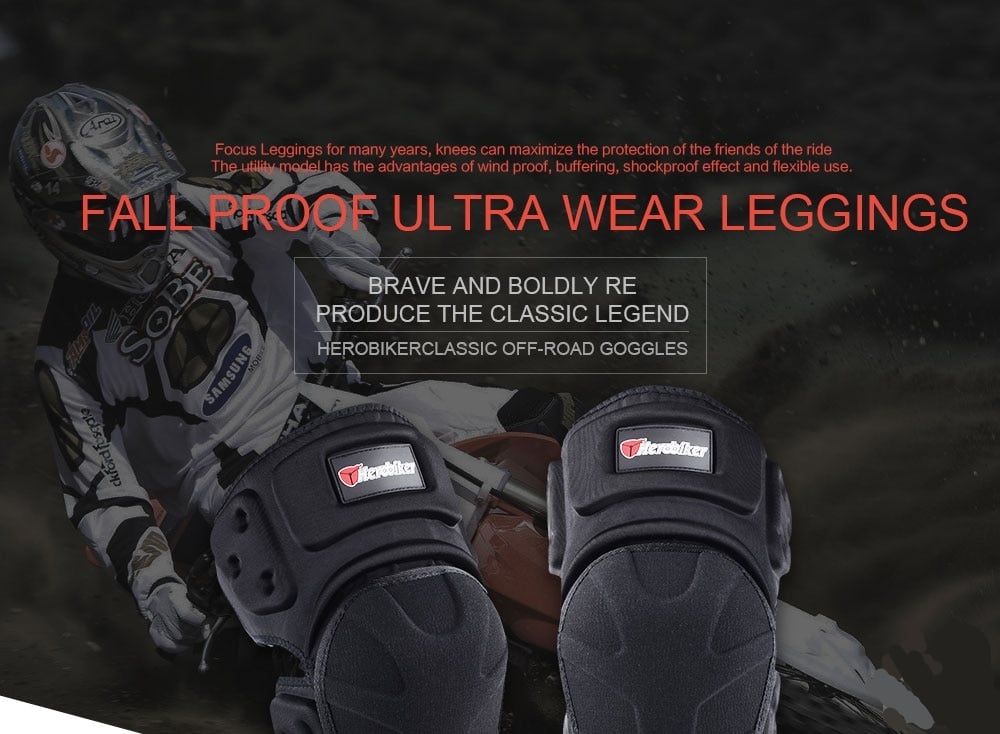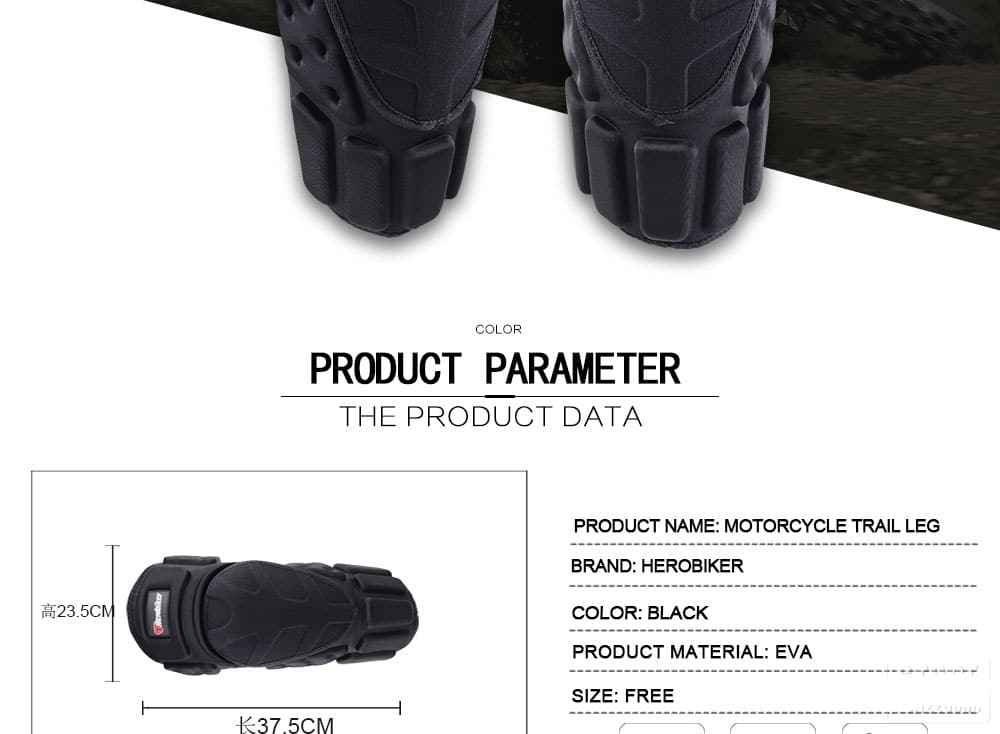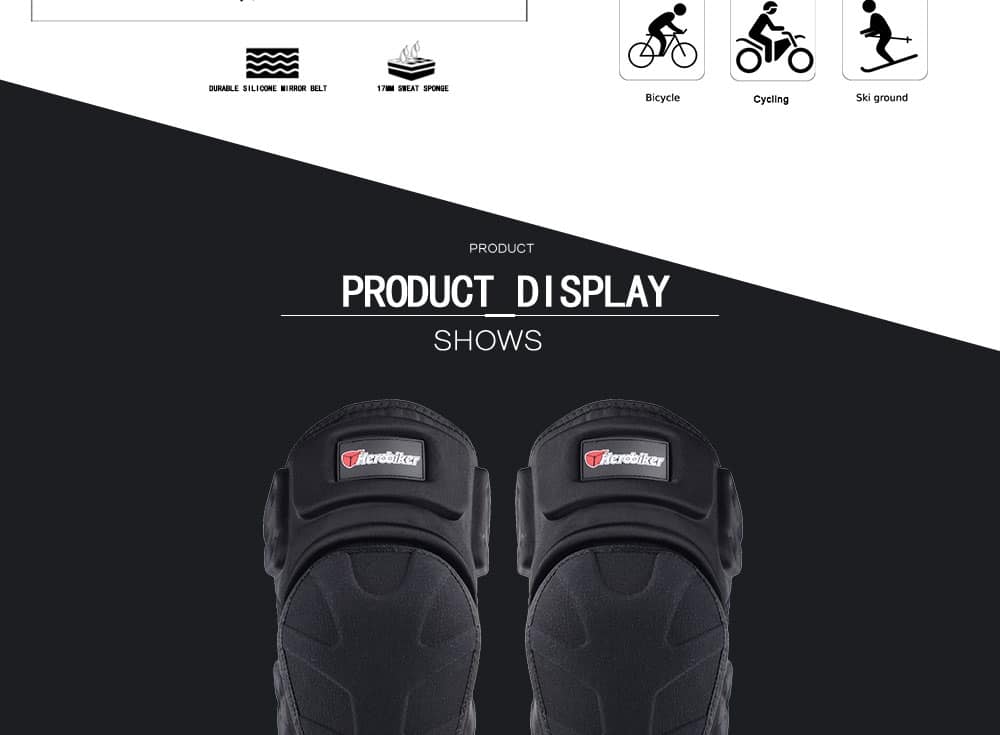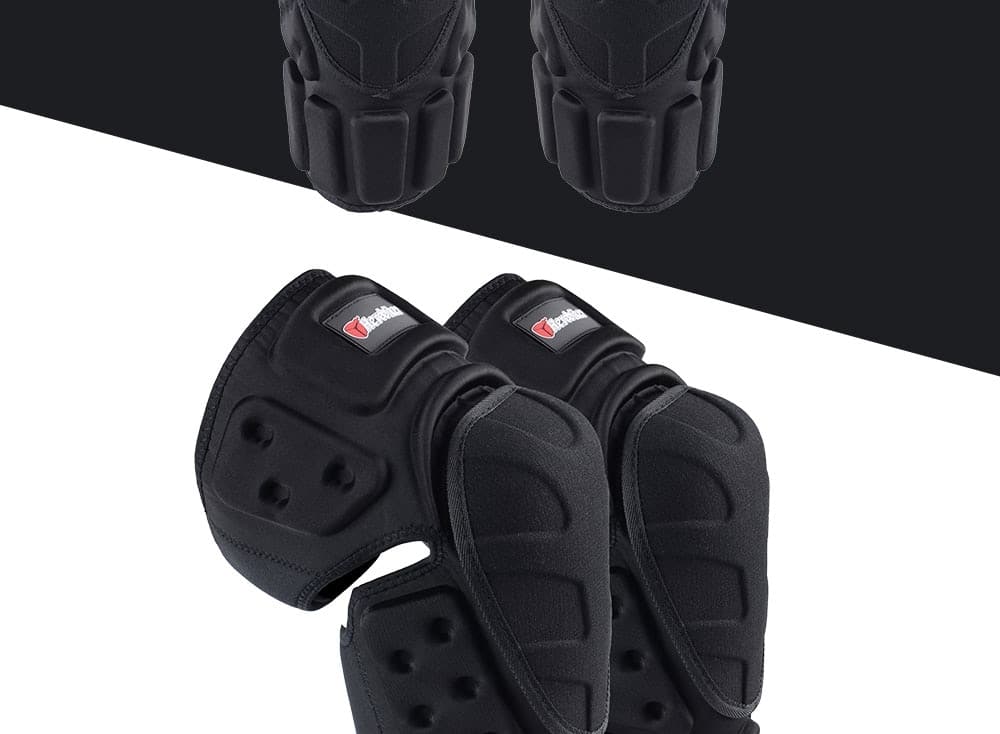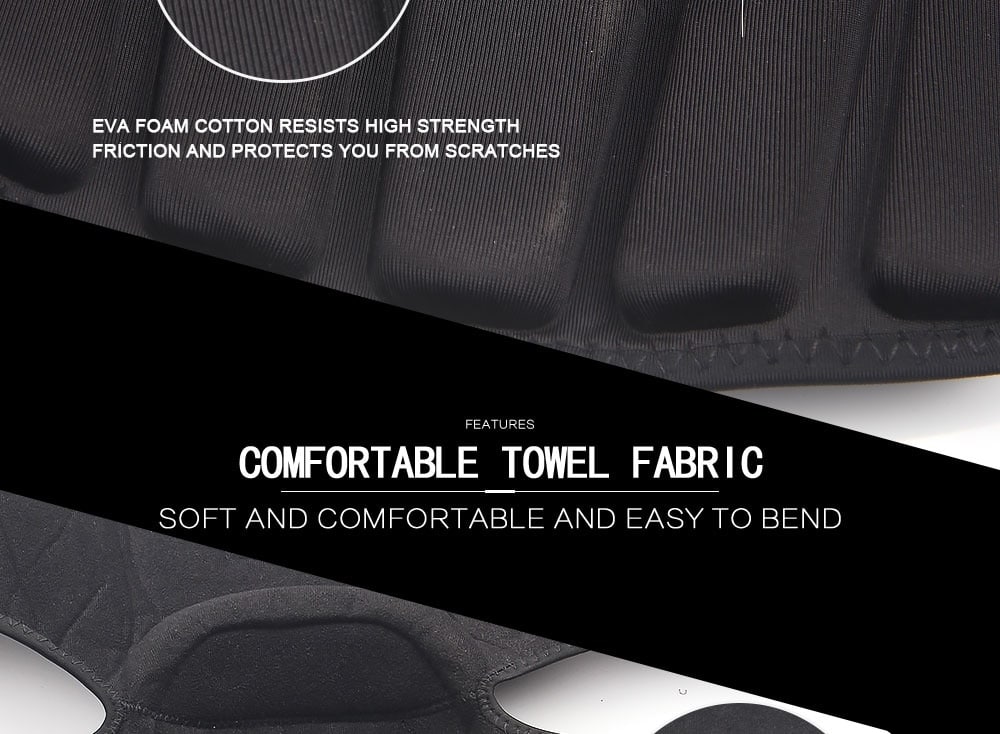 Features:
Special protective design ergonomic scale. Both beautiful and safe
3 D breathable mesh cloth. Comfortable not hot
Embossing design.The diving cloth paste hand is not easy to slide
Four high-speed breathable mesh design. And a rubber sliding block full protection
Ergonomic. Palm stereo drop protection shell. Compared with general shock absorption foam has a better protective effect
Finger version adopts rare refers to design. Let gloves more lie down with her hands. Control feel absolutely
His fingertips cowhide impact protection.Sandwich with glitter night safety
The palm entire wear cloth and slide particles jointless design.Strengthen the prevent slippery effect and reduce release fall down from the joint
In escaping suede protection. Reduce the long time use gloves and locomotive abrasion between the handle and feel Thumb sticking cowhide impact protection
The wrist devil adjustment design. Let the glove is not easy to fall off
Specifaction:
Gloves Name:Brand New Full Finger Motorcycle Gloves
Gloves Weight:About 150G
Gloves Style:Genaral
Gloves Color:Black
Gloves Size:M,L,XL,XXL,