Special anti-theft alarm for Kaabo electric scooters. 
Plug and play system for Mantis and the Wolf warrior. 
Please notice. For the Wolf Warrior, there is no room for the alarm.
Need to be installed in the side deck or battery room. So if your scooter as the kaabo wolf is with the ful size 35ah battery there is no room for the alarm system.  
Wireless control lock and key switch lock can be used at the same time. The remote alarm kit got an electronic lock function. When leave your scooter.
press lock on the remote. Your scooter can now not be turn up by the display/key lock. Press one time more and the alarm function kick in. It will now detect if any one move your scooter.

Press on unlock, and the alarm function is deactivated and you can start scooter as normal by press on on/off at the display
System configuration of the system. The scooter key switch are connected in series mode. When starting up, you need to turn on the wireless remote control switch and then start the key lock, so that the scooter can start normally.
Double plug alarm function:
1. Alarm On/Off, if the scooter move a high-decibel alarm is activated
2. Even if the scooter is powered on, the car cannot be ridden, and a high-decibel alarm is provided.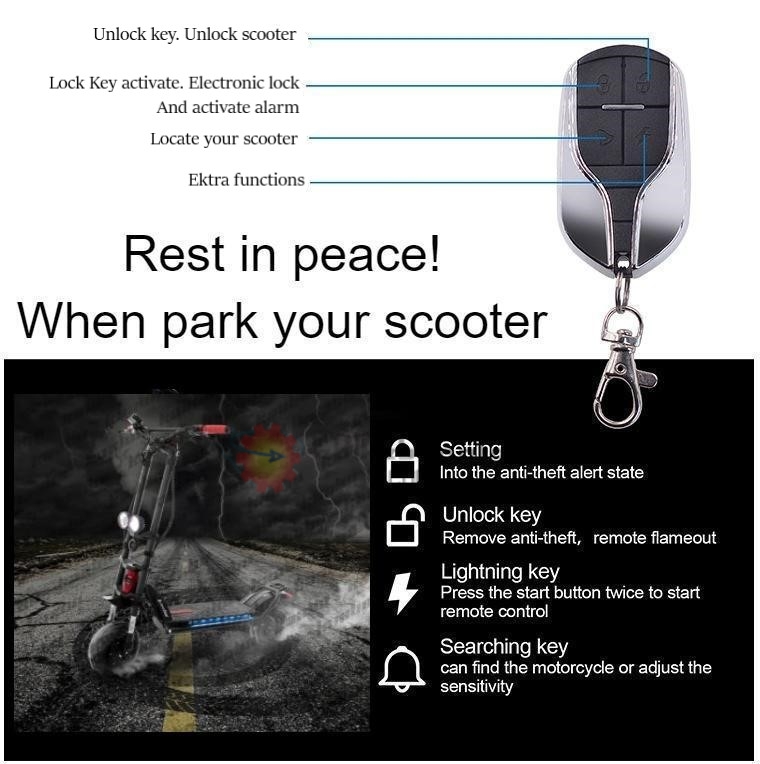 The alarm kit fit perfect inside the side deck on the Mantis model ranges