Meilan X5 Tail Light – Feel safe when ride around in traffic at scooter or bike. 
Wireless connection make the install pretty straight forward. Wireless rear brake light with wireless turn signal control and regular visual warning with brake light and laser beams on ground.
Without complex wiring on your bike. can be mount on any scooter or bike with Mount: Fits tube dia. 20-40mm.
Equipped with quality LED chips and high volume rechargeable battery.                                                               
You control the turn signal with a short press.
2000mAh USB rechargeable battery allows the rear light work continuously up to 8 hours in flashing mode.
The light detection system would turn off the lights automatically during the day and turn on at night.
There are three flashing modes, flashing, constant and cross-flash.
Two way to fix the rear light, the saddle bottom or the standpipe above.
This Model is with automatic brake light for extra safety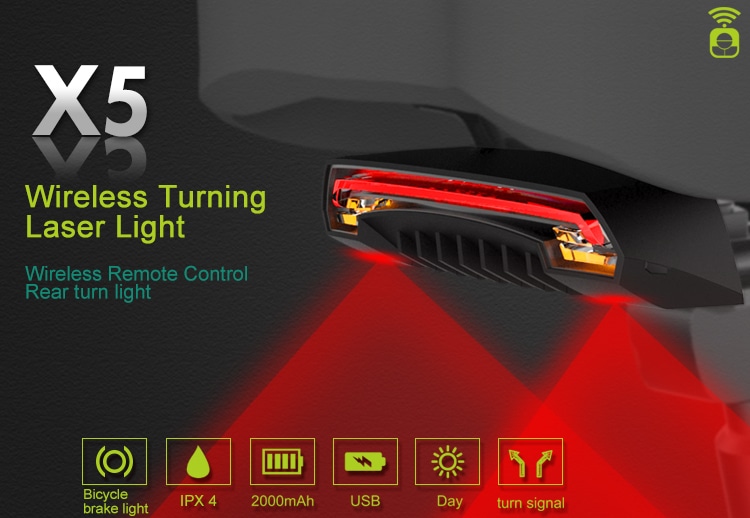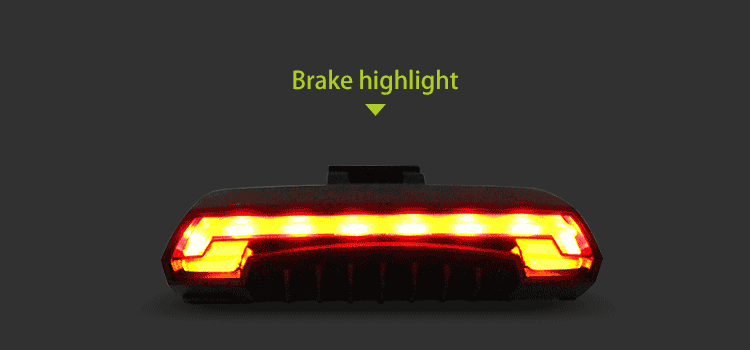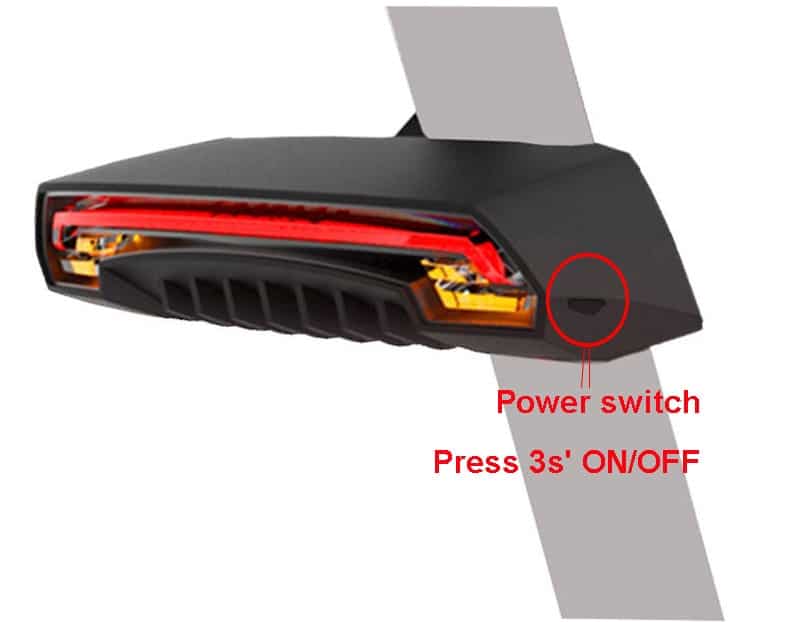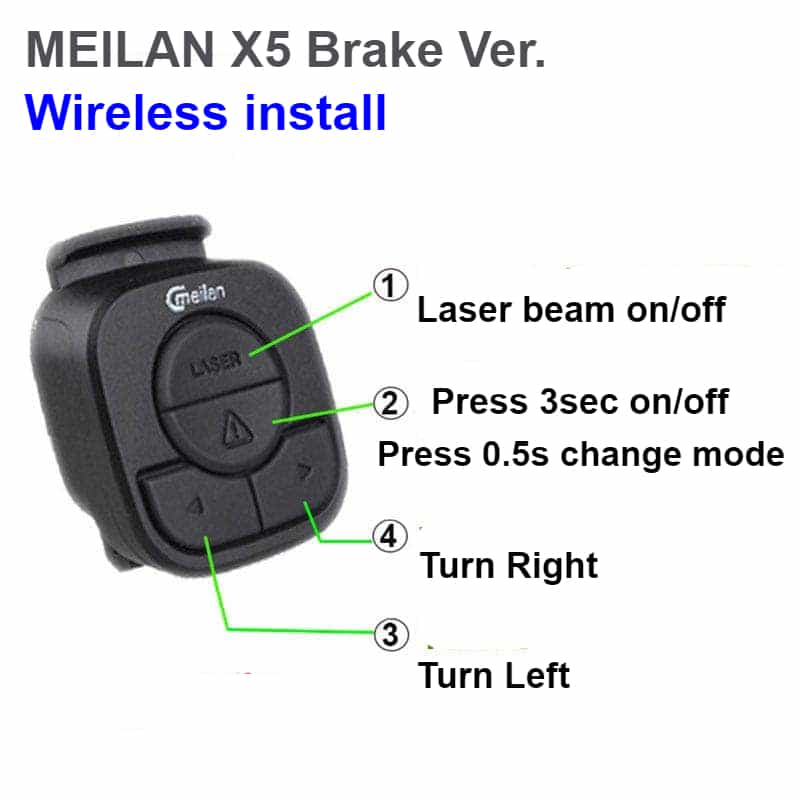 This light combines regular visual warning with turn signal light and laser beams, providing a full round of visual warning effect. It features in remote control so as to stay away from complex wiring on your bike. Equipped with quality LED chips and high volume rechargeable battery, this lamp is able to meet most of visual warning needs desired in cycling.
Note: Meilan X5 you received the accessories as a standard configuration, as has been upgraded, thanks
And we guarantee that you receive the product is% 100 original
Remote control to stay away from complex wiring on bike
· Turn signal light indicated by the red and yellow color LED
· Two laser beams projected on ground marks a safety zone
· Streamline regular visual warning by red color LED
· Choice quality LED ensures high light output, various lighting modes provided
· Equipped with high volume battery to support high illumination
· USB 5V charging, easy to use with computer, laptop, Android phone charger or battery bank
· Housing Made by ABS material from fine tooling,
· Light source: 29LEDs SMT (Everlight chips)
· Light color: Red light + Yellow Light
· Main Mode: 3 modes ( Flash, steady, cross-flash)
· Turning mode: 2 modes ( Turn right, turn left)
· Laser: 2 red lights, safety distance 5M, 2 modes: steady and flashing
· Switch: Remote control ( controller mounted at handlebar)
· Auto light sensor: on/off by ambient light brightness
· Lamp Battery: Lithium battery 2000mAH #18650
· Charge: USB port  about 3-5 hours to full charge; input 5V 1A Max
· Controller Battery: Button Cell CR2032 3V 310mAH, replaceable, not chargeable
· Indication: Red light when charging, auto turns off when fully charged
· Burning: subject to mode in use, mainly,
work 4-8 hours
.
· Ingress protection: Rain water proof
· Mount: Fits tube dia. 20-40mm
· Casing: Mainly black color
· Material: Mainly ABS, PC, silicon & electronic devices
· Working Life: 1000 times charging, 5000 service hours
· Working Temperature: -20-60°C
· Lamp size: 110*45*30mm, weight 130g
· Controller size: 35*42*20mm weight 17g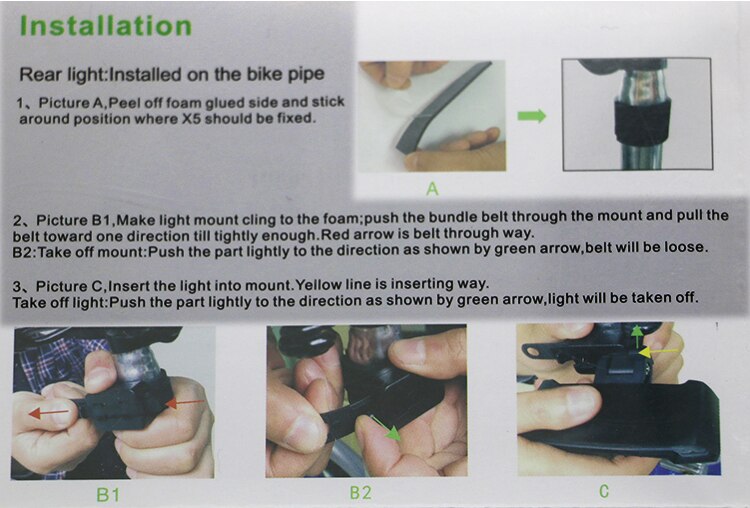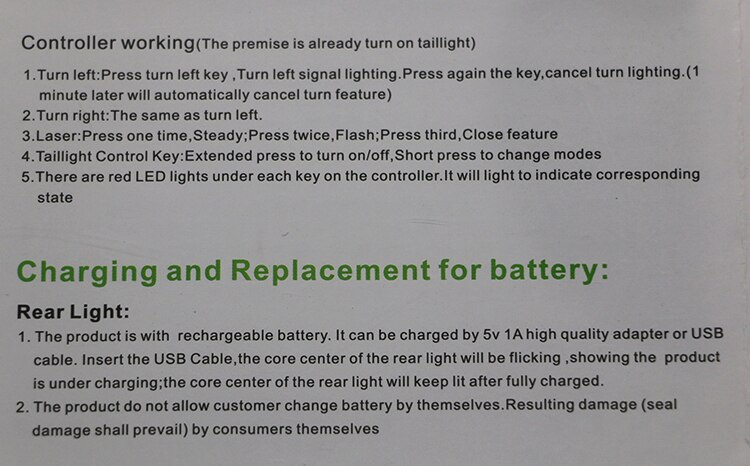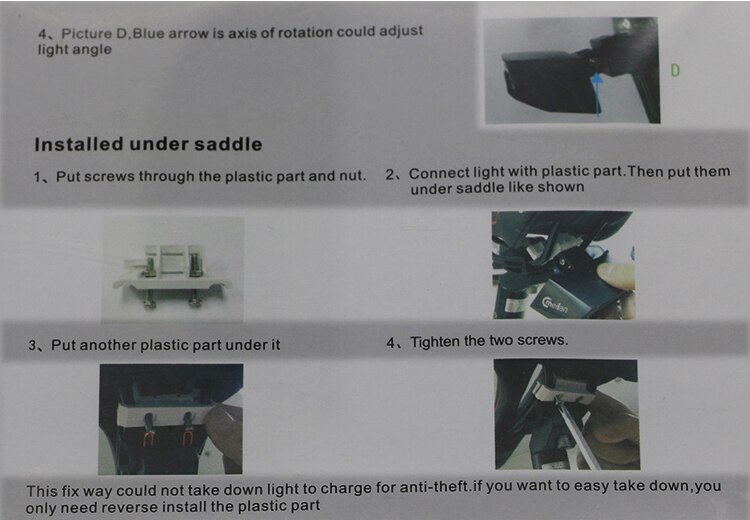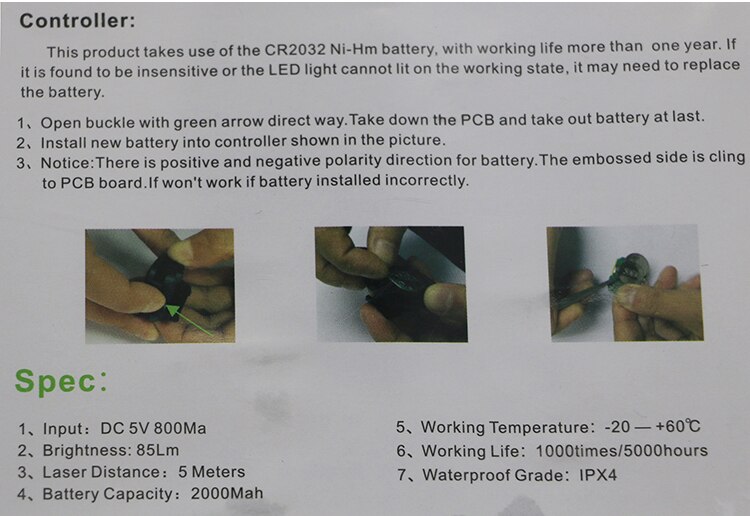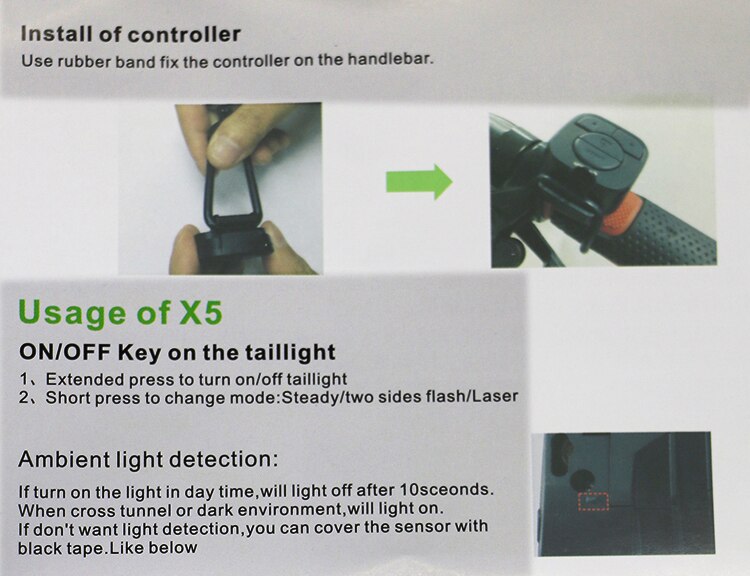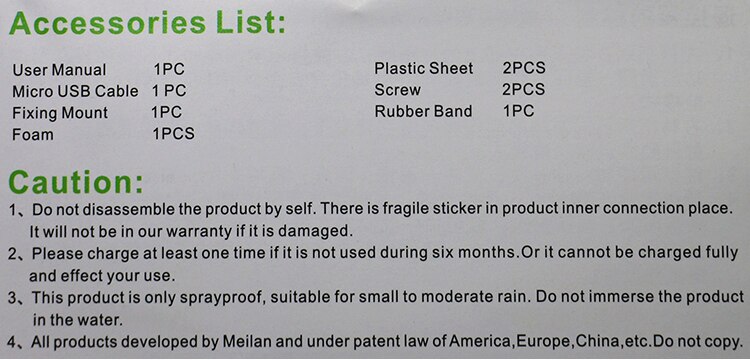 Rear