Dualtron Ultra from Minimotors with the output of 5400 Watt 
Trust us! No doubt one of the highest performance off road electric scooter on the scene.
It comes with a superior grade 1900Wh LG-MJ1 cells Li-on battery, which can last up to 120km/80 miles after fully charged.
With the massive 5400W powerful dual motors and 3.9″ wide 11″ soft grip off road tires (can change to on road tires), Ultra can run with high-grip on the dirt road. And easy to climb nearly any gradient you likely encounter and dare. Ultra version 2 applies new designed axis in rubber suspension, so you will have the most comfortable and smooth riding experience on the high speed.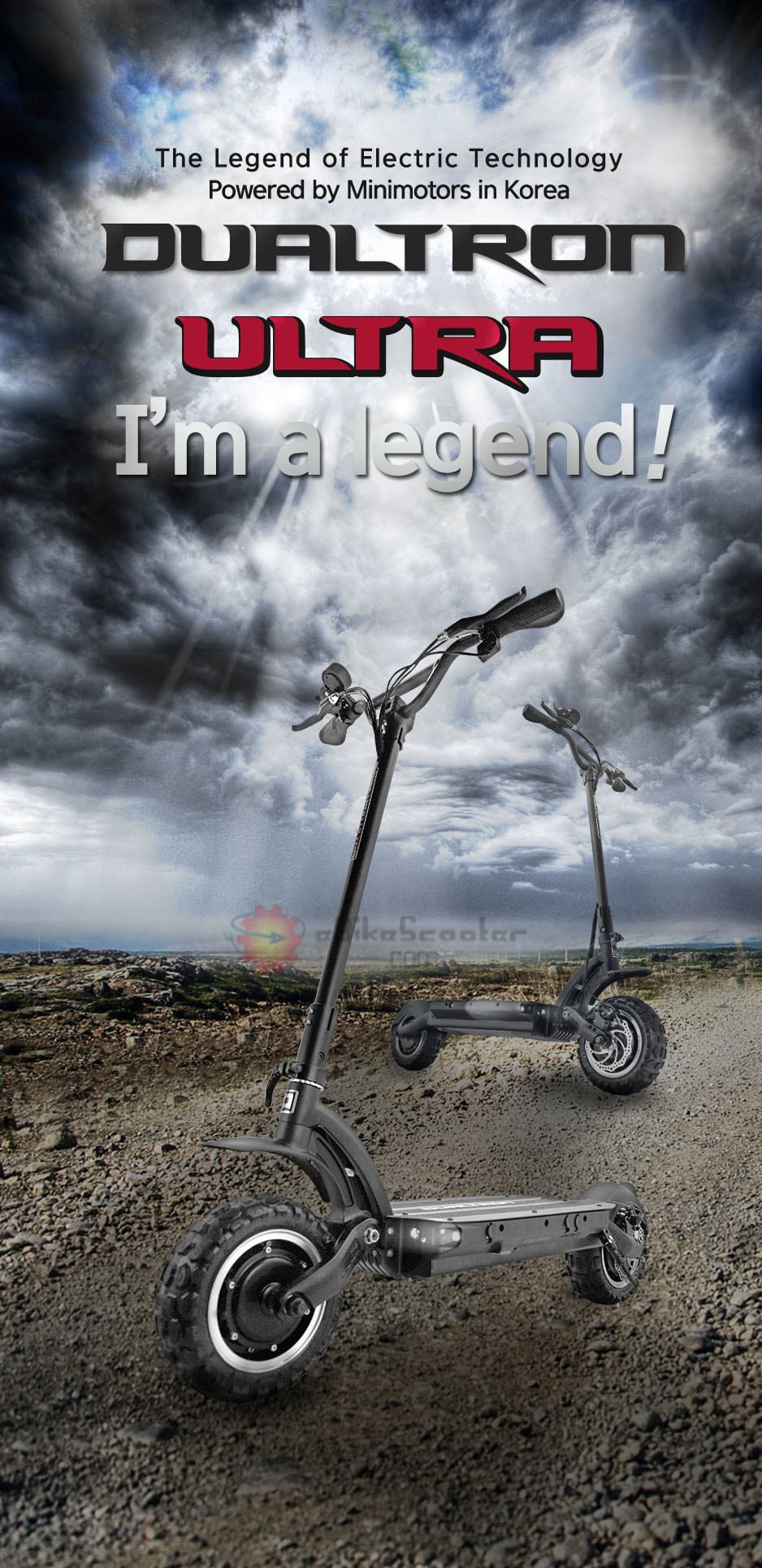 Powerful Dualtron Ultra offers overwhelming acceleration from the dual motors
Drive and climbing and off road ability that you have never felt before.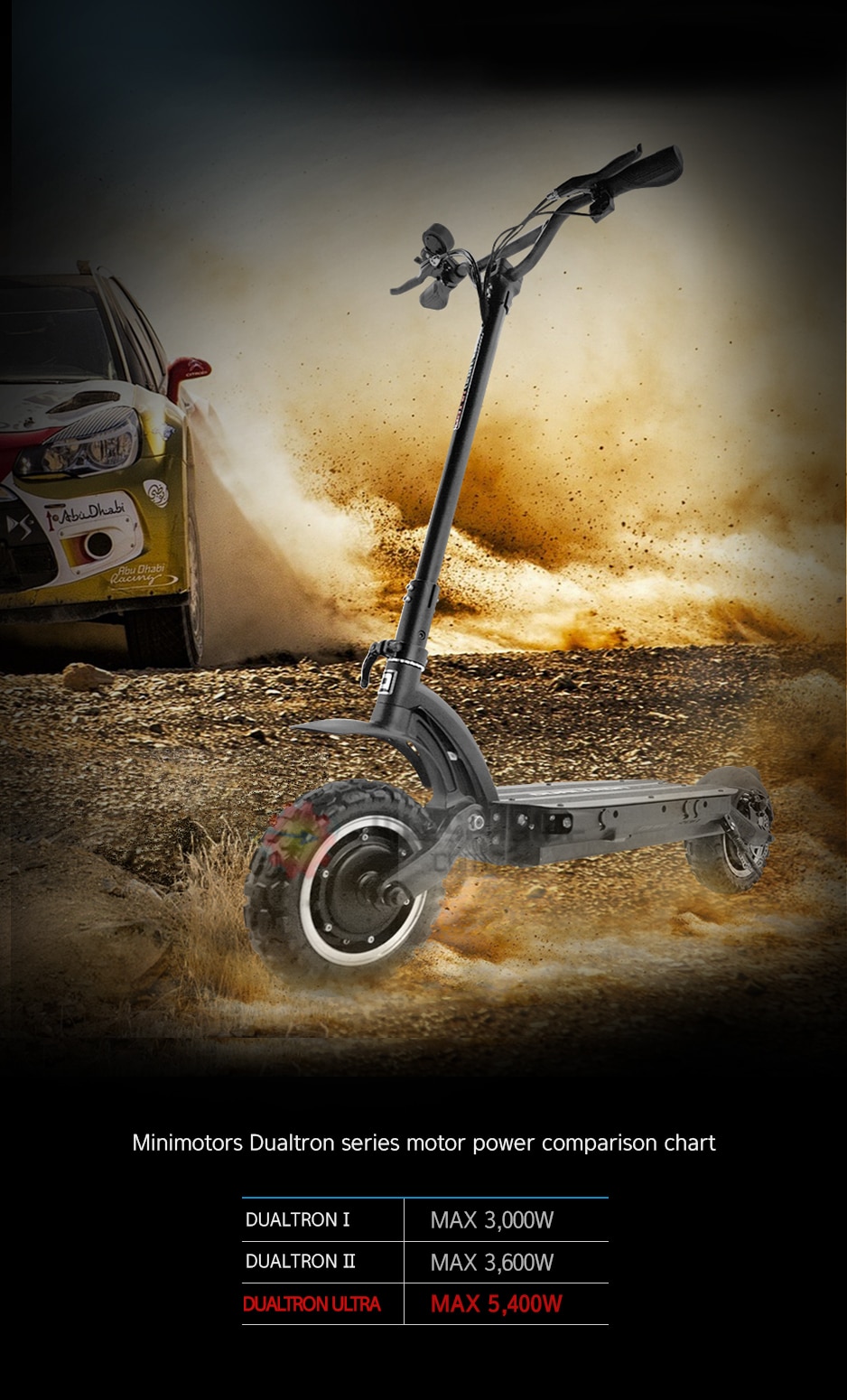 High performance LG-MJ1 battery battery included.
It is equipped with the largest capacity and high performance lithium ion battery in Korea, and it is possible to carry out high power and long distance riding over rough terrain.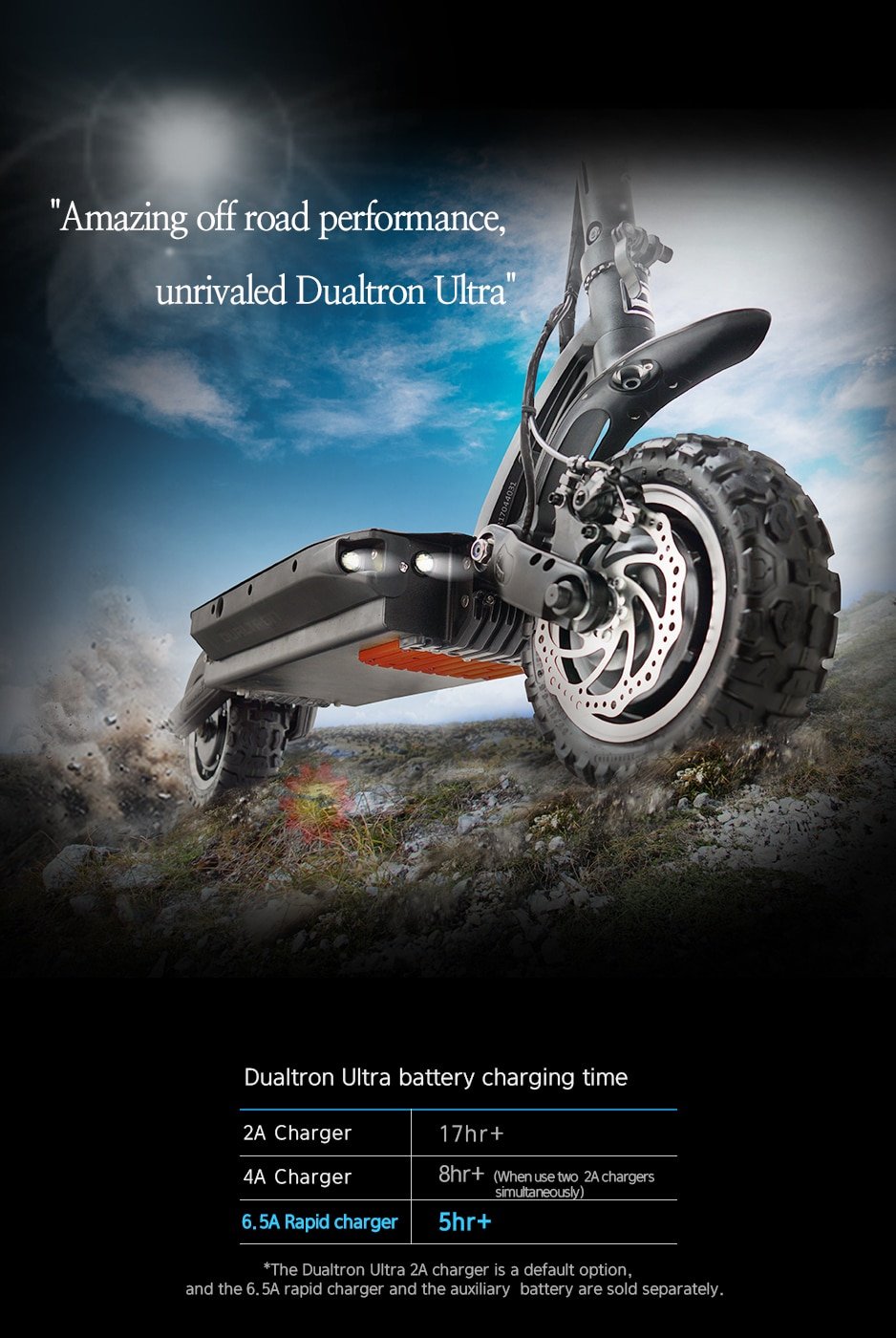 Special heat sink structure that prevents overheating due to high power is applied as a default option!
It is equipped with a special heat sink which protects the damage of the controller from high heat generated from the dual controller at high output to the outside.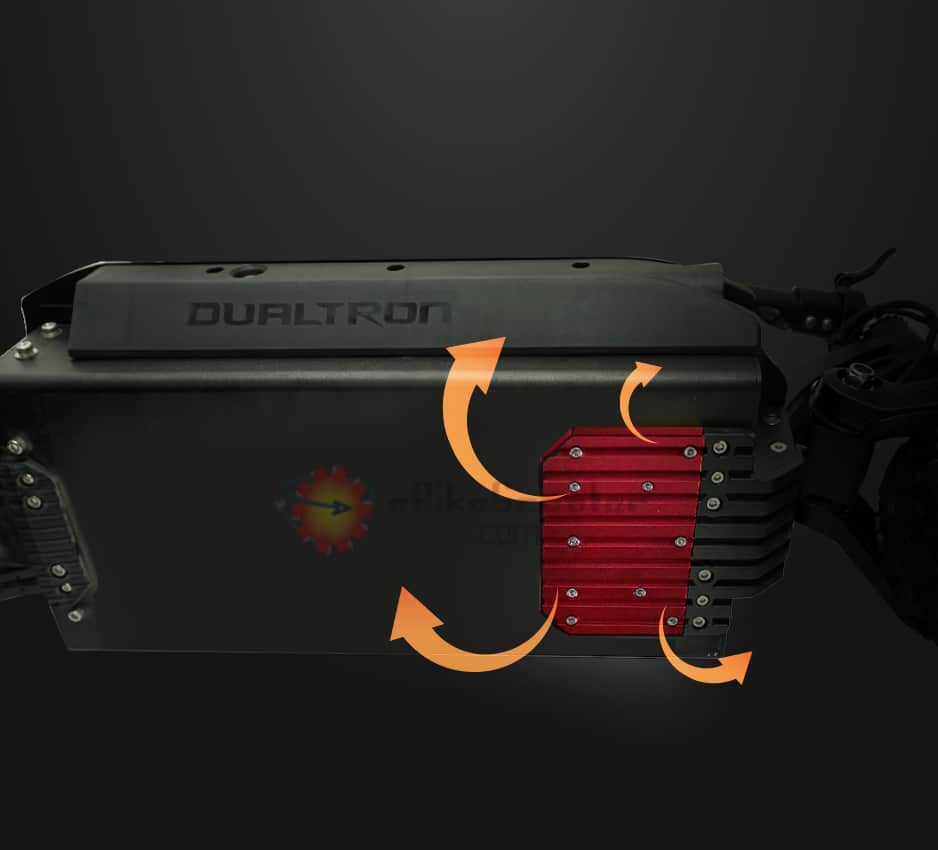 Powerful Dualtron Ultra!Perfectly protect for high speed!
Dualtron Ultra which is given  born with outstanding power is an pure beast and love off road and fun
Ultra is the electric scooter for extreme conditions. Be sure to wear the full face helmet and protective gear perfectly and use it safely in a safe place. Before riding, be sure to wear full face helmet which cover whole the face and protective gloves, and protective gears which protect the knee, elbow, back bone, shoulder.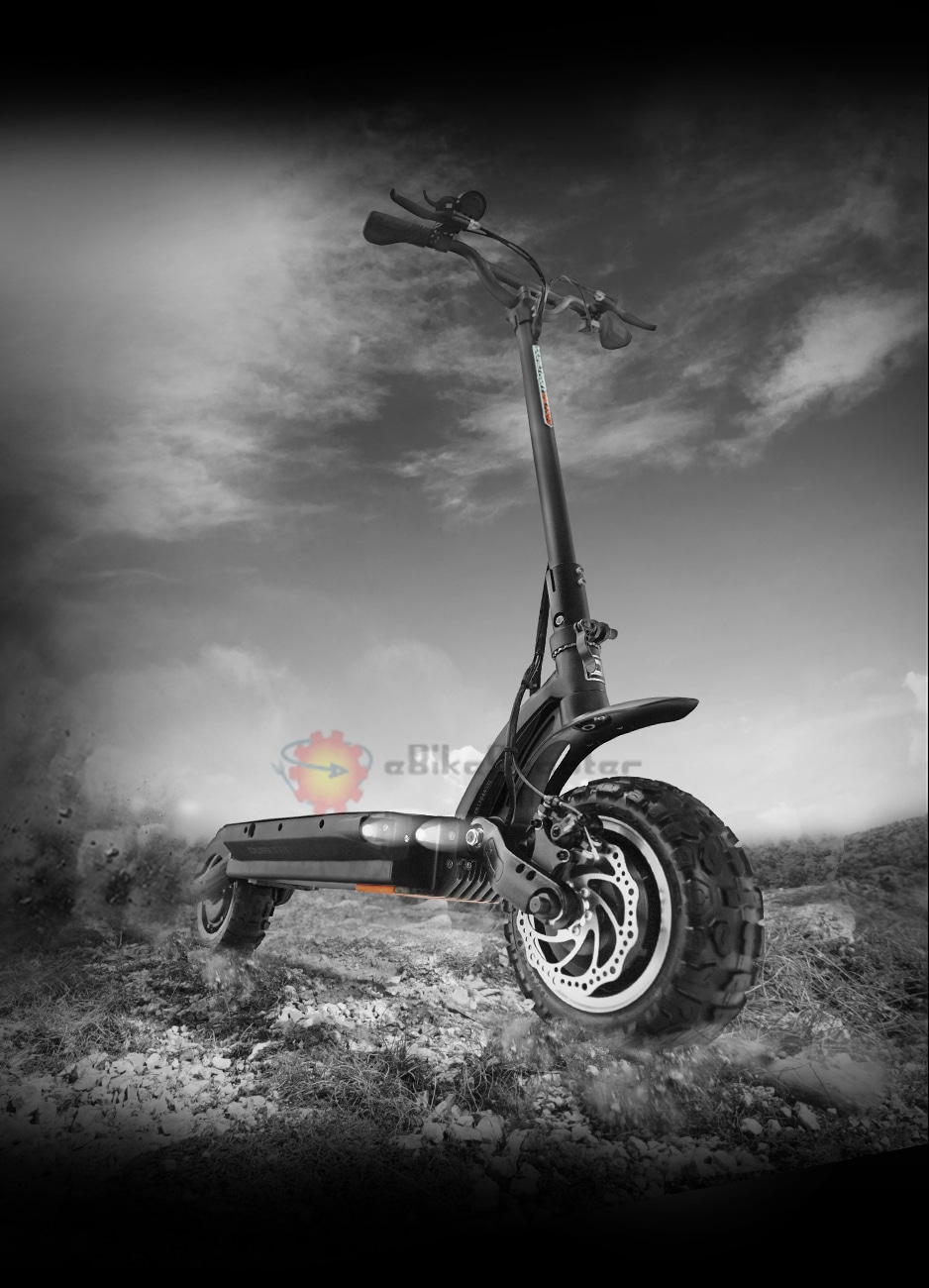 Safety and comfort- Dualtron Ultra Dual high density PU suspension on the front and rear wheels is default option.
A dual high density, high impact PU suspension that achieved both large shock and small vibration is attached to the front and rear wheels to provide excellent shock absorption and the best riding comfort over rough terrain.
Powerful braking ability of Dualtron Ultra
Dual electronic brakes with dual disc brakes provide the best braking performance with regenerative charging. The electronic brake prevents premmature "locking" of the mechanical brake on sandy and slippery surfaces.
* When the machine is shipped from the factory, the electronic brake function is released.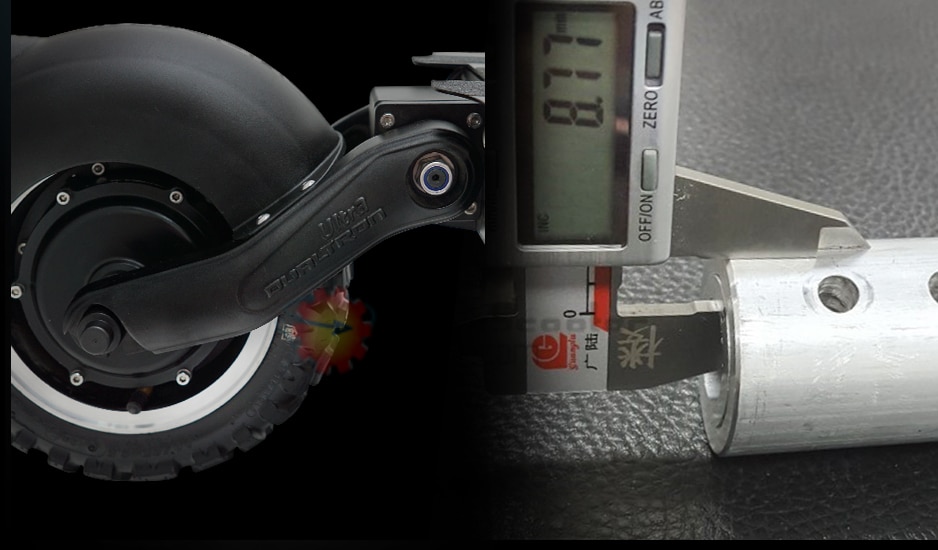 Must be robust under all conditions
One of the most important parts of Dualtron Ultra, the front, rear swing arm is made of special forged aluminum for aircraft to ensure durability and safe running in off road environments. The swing arms, suspension and frame have been designed and tested to withstand extreme external force.
Robust and more robust, 8.5mm handle post
The 3.5mm tube is added to the existing 5mm handle post to enhance the durability of the handle pole when jumping and during hard braking.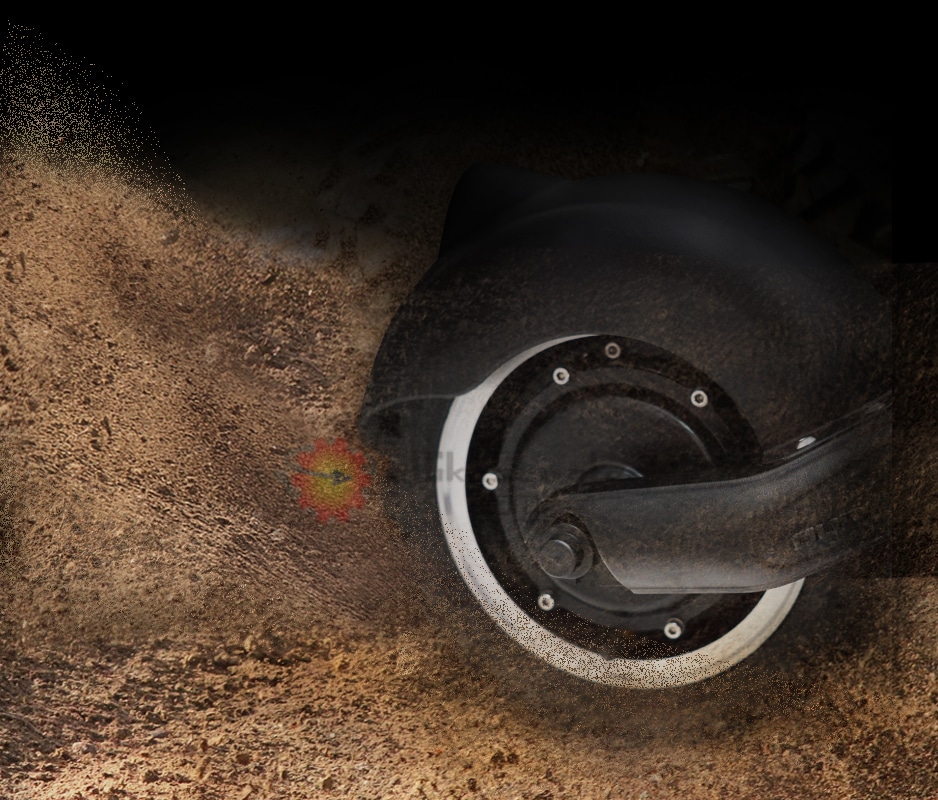 LCD display instrument panel
The LCD display on the Dualtron Ultra is a multi function instrument panel that allows you to adjust the various functions such as speed mode, start mode, cruise mode, electronic brake, as well as acceleration function. (Self-developed)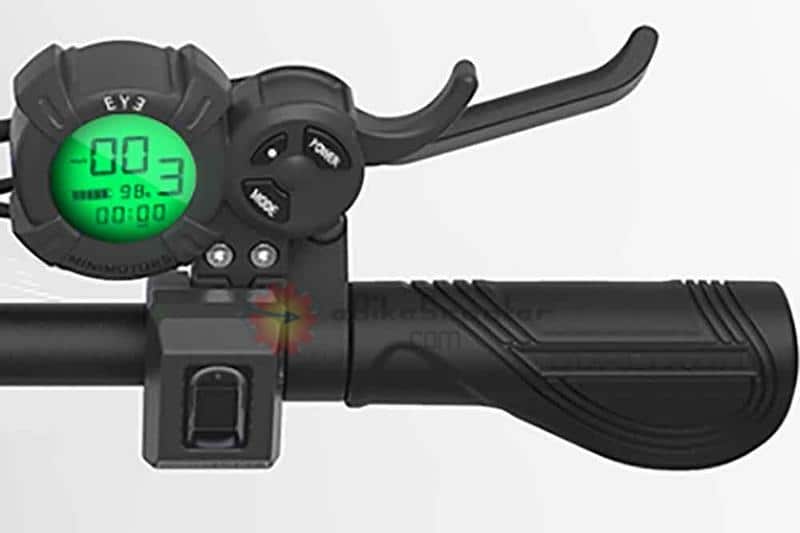 eBikescooter Real Road Test: NO
| | |
| --- | --- |
| | Tested top speed: Not yet tested* |
| | Tested range: Not yet tested* |
*eBikescooter real test in normal weather condition in mixed Mixed driving and an 75 kg rider.
(max speed as well as city driving)
Specifications: