The Zero 11X is Zero's new electric scooter and the most powerful with 2x 1600w BLDC hub motors rated at 3200w continuous or 5600w peak it can reach a top speed of 100 km/h, a feature that makes it one of the fastest electric scooters in the market. *speed restricted in Australia. Sporting a double hydraulic brake system with disc brakes (front and rear) and an additional electric brake for maximum stopping power and comfort is not compromised with rear and front suspension as well as 11-inch air tires.
The 11x range comes with 2 different battery options, namely a 28Ah model and a 32Ah model – the 32ah using a lithium-ion LG battery.
The 28Ah battery is a Chinese brand battery – (SINC).
The 11x however is the peak model as of Feb 2022 and offers some incredible specifications, well beyond an typical electric scooter.
0-100km/h is reach by between 9 -12 seconds for most people. Our road test performance:  9.1 seconds on flat level ground, with a battery state of 81V and a riders weight of 66kg.
So how about hills and off road. No problems here at all out test show easy gradeability of up to 35% although lighter riders may get away with up to around 40%
All our ZERO 11X is shipped with NUTT front and rear hydraulic brakes. Great stable setup with dual 160mm discs (rotors)  Overall braking performance on the ZERO11X is very good. From 60mph the 11X can brake to 0 within 50 meters.
To support mechanical braking the 11x also has regenerative braking which uses load resistance to help slow the wheels / scooter down.
The regenerative braking is really work and give some juice to the battery but , it can also damage controllers when regenerating as the feedback load puts a strain on the controllers if the battery is at full capacity. We advice therefore always to turn regenerative braking off altogether when full batteryor just reduce the amount of regen braking.
Make sure you always have some spare pads – they don't last very long. Get them HERE
Max Speed: 100 km/h 62+ mph (top speed is dependent on the weight of the rider)

Mileage Claimed 150km/93 miles, real world ECO riding >78km/49 miles, fast riding dual mode 28km 18 miles.

Charging Time: 15h (Standard Charger) – 7h (Dual Charging) – 2x GX16 Ports

Battery: 72V – 31.5Ah – 2,268Wh – Usually LG or Samsung Cells – also available in 28AH CN battery

Motor: Max 5,400W BLDC Dual-Hub Motor

Controller: 72V 2 x 45A

Maximum Grade Ability: 70% or 35 degrees (depending charge state and weight of the rider)

Brake: Hydraulic brakes with ABS standard and 160mm disks

Weight: 52kg

Max Load: 120kg

Suspension: Front Single Shock Lever Suspension. Rear Single Shock Suspension

Tire size: 11″ With innertube

Lighting Stem lighting, Dual LED Headlight and Tail light, Brake light, Turn signals

Horn Built-in Bell, No Horn

Folding Steering Tube 6082-T6 alloy aviation grade frame and handle.

Size (L x W x H, cm) Unfolded: 1420 × 1325 × 720 mm

Folded: 11420 × 600 × 720 mm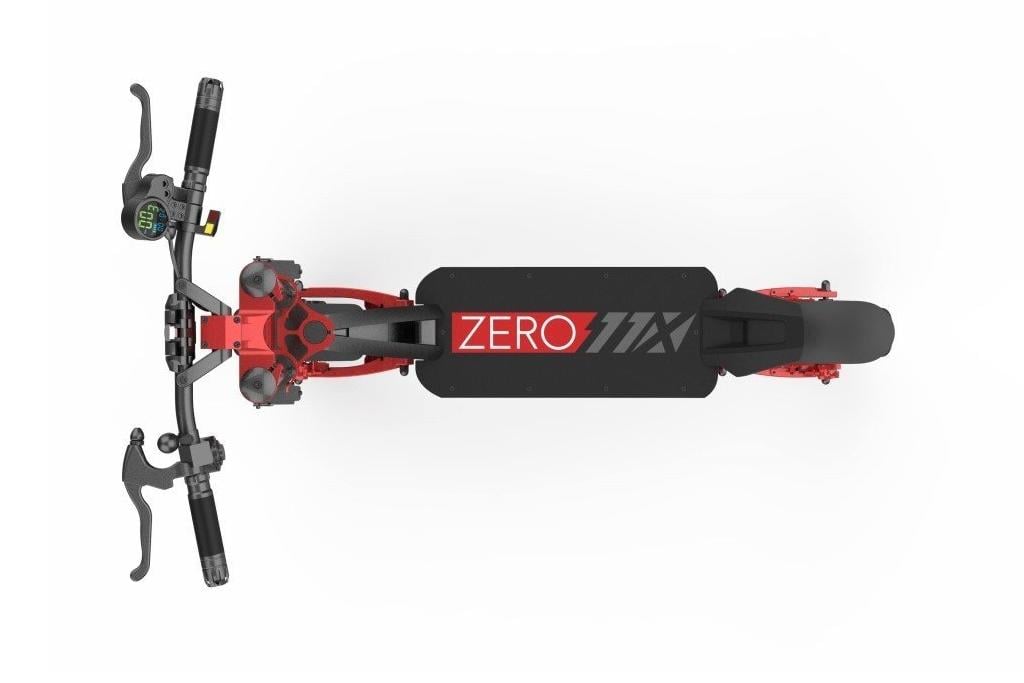 4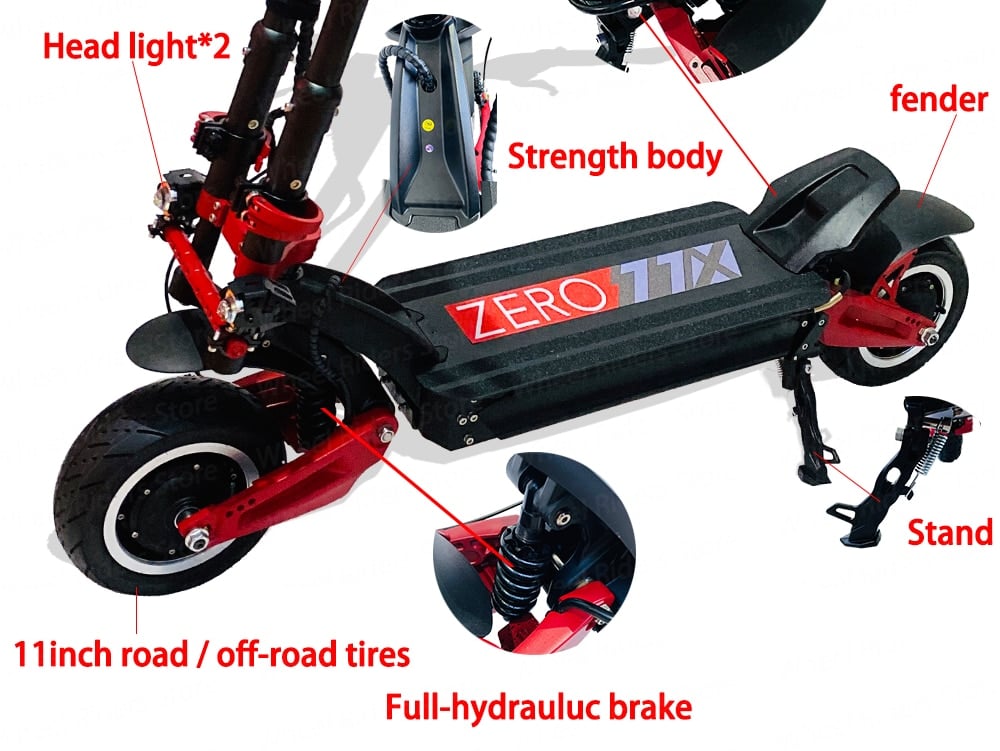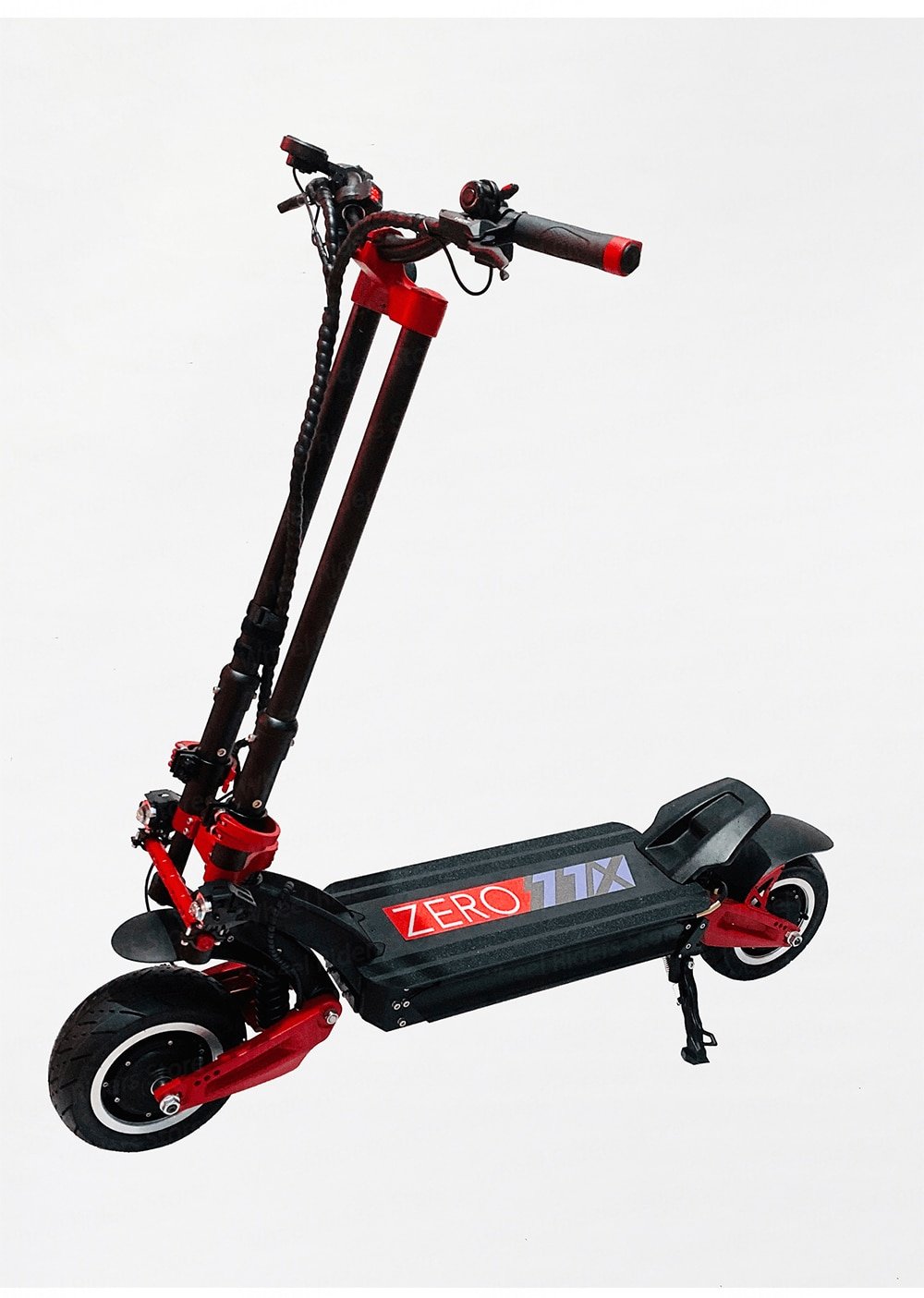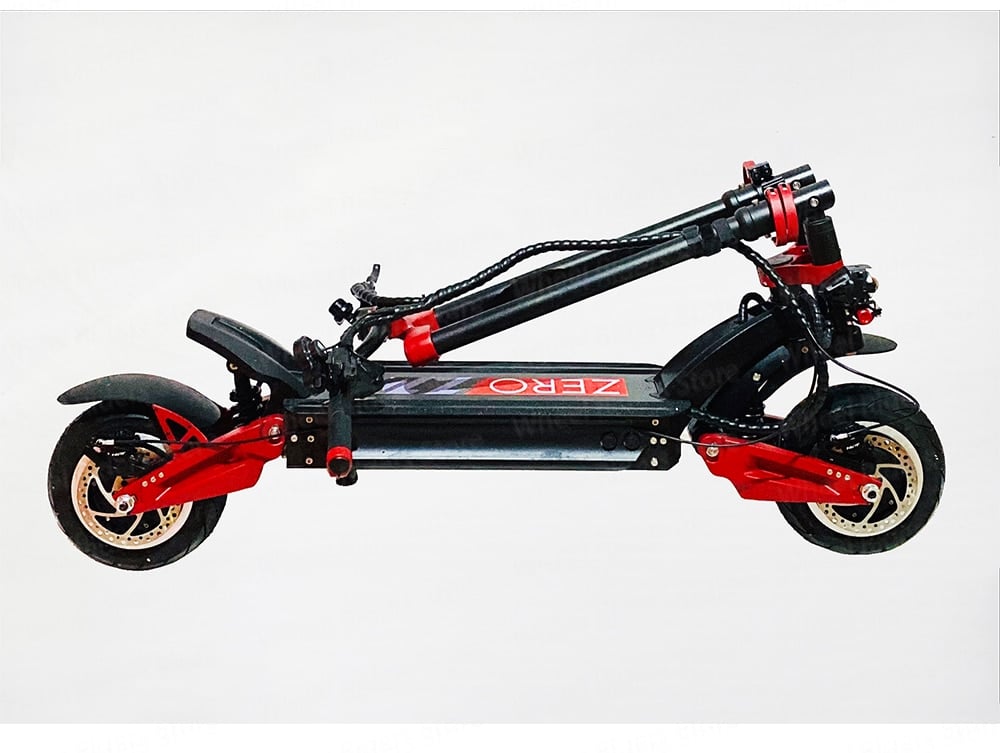 A closer look at ZERO 11X