NAMI BURN-E is not for everyone! Burn-E is for connoisseurs, enthusiasts not afraid of speed at low altitude!

At NAMI, everything is subordinated to performance and an exciting user experience. Anyone who has ever ridden such a powerful electric scooter knows what to look out for and what are the key components to an unforgettable driving experience. NAMI engineers designed BURN-E from the beginning and based on the user experience.
Burn-E is for experienced users who have already ridden powerful electric scooters and know the shortcomings of these. Burn-E is therefore for the most demanding users who know what they want and do not care about the cost.
Experienced engineers specializing in electric mobility have joined forces and carefully selected components together, and completely redesigned the exceptional NAMI BURN-E electric scooter…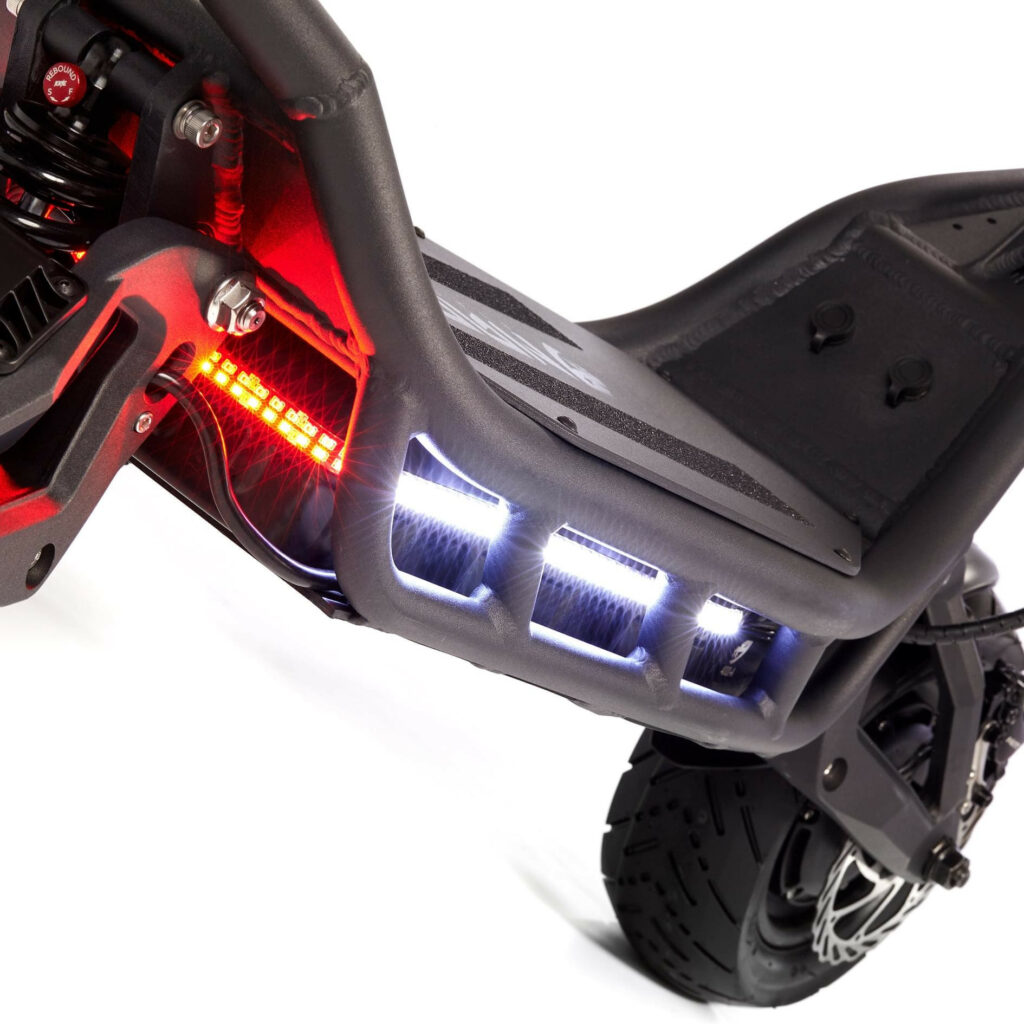 In order to better understand what you got then select the Viper, when select your next scooter inside the premium class, let us recall other models in same class as the  Nami Burn-e Viper. With a  72-volt battery. You will find the Dualtron X V2, Dualtron Storm, Dualtron Ultra 2, Wolf Warrior King – great scooters.
The battery used in the Nami Burn-e Viper scooter is based on Panasonic cells and has a capacity of 35Ah at 72V. This solution gives us a spectrum of possibilities, because it allows you to cover a distance of up to 150 km! But as always this is under special condition and driving behavior you will not perform in any way when ride the the Nami Burn-e.  You will cover this distance only under certain conditions: driving on a flat road at a constant speed of 30 km / h, without braking and stopping, in calm weather and a temperature of 25 degrees Celsius, and weighing 70kg
In our test of range, we can prove our customers about 120-130 km, so still well above 100km range. An crazy amount of range for a e-scooter!  This makes it as an weekly charge model for daily community. With the dual charger ports you can charge it 100% by around 6 hours
When speak about the power, yes motors!  but before we do, let's  deep into the controller selection, even the most powerful motor would perform weak or blow out for an replacement without the proper controllers. NAMI do equipped the Viper Burn-e with 2.pcs Sine Wave 50A controllers, build in the total of 12  MOSFET that let the scooter deliver an real turbo acceleration! Moreover, even at peak, the motors are quite silent, Compared to the Wolf Warrior the Viper Burn-e behave like an silent tiger. That's so great to finally ride on a e-scooter that is not only green energi but also more silent. You can control and ride the Nami Burn-e Viper electric scooter as you like., will set the maximum power and starting power. As example you can choice 40% power on the front wheel and 100% on the rear to prevent to much pull. This  is another innovation not seen on any other brand. You will also discover the 5 pre built-in driving modes.  (ECO to aggressive)
Cruise control with speed regulation using a built-in switch.
But most important with any e-sccoter is the build quality and herein, how the e-sccoter deal with efficient protection against overheating the controllers,  very important, because if we set everything to the maximum, two BLDC motors will reach the power of 8400W. Not many scooter controllers can deal with that longterm without blow out an replacement. The design of the NAMI e-burn have move the controller out deck for optimal cooling. Yes also  IP65 water proof.
In terms of waterproofing standards, Nami Burn-e has passed the test of riding and stay in heavy rain without problems (water and dust resistance rated: IP55). The engineers also designed the ABS plastic housing. And a cover made of EVA covers another layer of the battery box to hold the battery, control box and wiring harness, which can protect against water and moisture. and vibration caused by driving as well.
---