NINEBOT KICKSCOOTER F25E POWERED BY SEGWAY
New design, greater performances
The Ninebot KickScooter F25E comes with a new fresh design, great riding experience due to comfort, stability and safety.
The F25E is featured with a 10-inch air tyre with an inner tube, made for absorbing impacts and making your journey smoother and more efficient. With up to 5 hours of easy charging, a maximum speed of up to 25 km/h and a range up to 25 km, it's tuned to deliver the best outcome for your commuter journey.
The F-series Kickscooters sport a new slimline design with a new improved and stronger supporting structure and with all the best key features from the earlier generations of Segway Ninebot KickScooters.
Focusing on comfort on a compact frame, we have placed the batteri in the footboards for a low centre of gravity providing better balance and traction.
The pneumatic tyres have an inner tube for a more smooth, comfortable ride.
The F-series comes with electronic brakes in the front and a 14" disc brake on the rear wheel plus a mechanical bell for extra safety. 2.1W front LED headlight, rear light as well as E-MARK reflectors on the front, sides and rear further add to a safe ride.
F25E is fully charged in 5 hours and sports a top speed of 25km/h (15.5 mph). The BMS battery system makes sure that no power goes to waste and prevents overheating, short circuiting and discharging. IPX5-rating protects your F25E in wet weather conditions. Dust proof and water jet proof.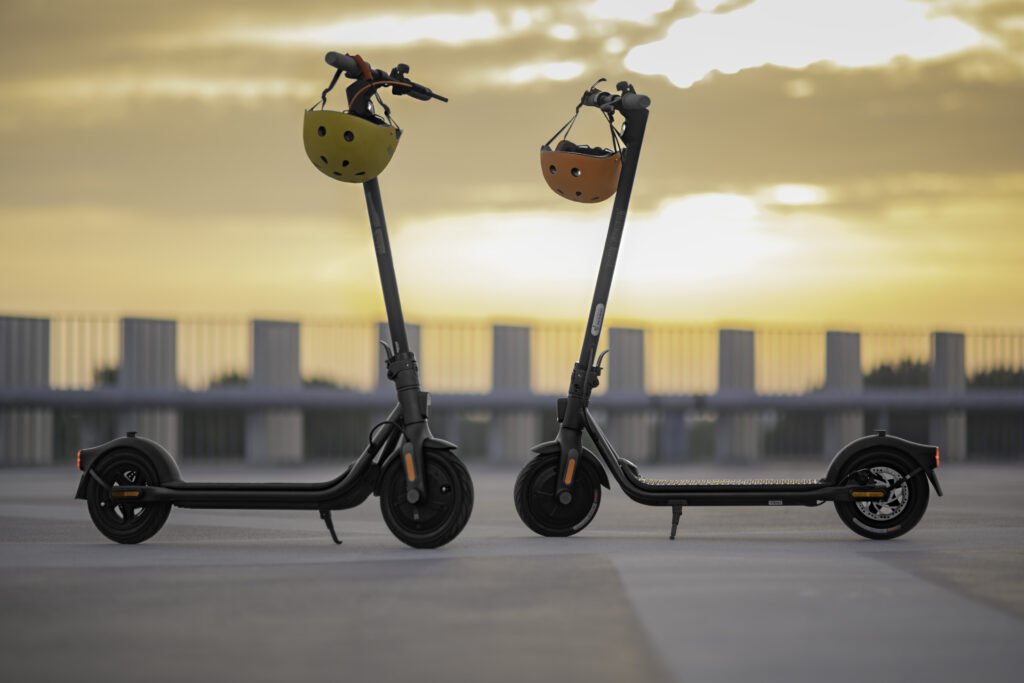 Move around you within 25 km!
With a power output of 250 W, you will be able to join your friends, family or whoever you want in no time with a top speed of up to 25 km/h and be able to climb small hills up to 10%. You will feel free to go anywhere you want in a perimeter up to 25 km: so where will be your next destination?
Fold, carry, unfold and repeat!
Did you know that the KickScooter F20D can be easily folded into 2 steps with one hand and can be store anywhere thanks to its compact folding? With a net weight of 16 kg, you can carry it when necessary and unfolded it to ride again! It is that simple!
Recommended age Age 14+
Max. speed 25 km/h / 15.5 mph
Typical range Up to 25 km / 15.5 miles
Max. climb angle 10%
Max. driver weight 100kg / 15 stone
Driver height 120-200cm
Shock absorbtion No
LED-lights Front (2.1 W) + rear + brake lights
Riding modes Eco / Standard / Sport / Walk
Charging time 5 hours
Power output 250W
Battery 275 Wh / 7.65 Ah
Tyres 10" pneumatic with inner tube
Brakes Electronic + 140mm disc brake
Weight 15.3kg
Bell Mechanical
Traversable terrain Asphalt, flat pavement
IP-rating IPX5