DUALTRON X II
With eXtreme 8,300 watt max BLDH hub motors, 13 inch ultra wide tires, 72V 42Ah battery pack with LG cells.
Dualtron X II  is the latest  model. An upgraded and improved 2020 version of the well known Dualtron X. The X II is the most fast and  extreme electric scooter currently built from Minimotors and also th  flagship of Dualtron series. With its two amazing powerfull  BLDHC motors. This beast do  delivers 8300 watt and a powerfull  72V 42 AH battery.
theDualtron  X II will climb any hill  and take you out for an ride of up to 150 km.
Innovative Air Cooling System
The extreme speed and performance of the Dualtron X II requires innovations in both cooling and durability of the massive 8300 watt motor & 72V 42 AH battery.
The Dualtron X & X II is therefore packed with a completely new cooling guard design.
The metallic piece on the bottom of the deck keeps the battery and controller protected and the inbuilt radiator improves the cooling and the airflow of the battery.
Eye LCD Display And Dashboard
The dashboard of the Dualtron X II contains an EYE LCD display.
The display ensures that you know everything you need to about your Dualtron X. Cruise control, battery voltage and adjustable power/acceleration
are only some of the possible options to observe and change using the EYE LCD display.
To ensure maximum safety for you and everyone else on the road, the left side of the dashboard is equipped with controls for turn signals, an electric horn and lights .
You may also add additional accessories on the left side of the stem, such as a phone holder, a camera or  an additional set of lights/horn.
Front And Rear Hydraulic Disc Brakes with ABS
Adjustable Front And Rear Hydraulic SuspensionThe Dualtron X II
comes with huge and adjustable  front and rear hydraulic suspension
This, together with the big 13 inch ultra wide tires,
gives the Dualtron X II an extreme stability and shock absorption
on the road and makes the hurdles of bumps,
potholes, and curbs a thing of the past.
The 19 step adjustable suspension can be adjusted from
both the front and rear using the adjustable knob and
allows you the freedom to adapt to the environment you are in on the fly.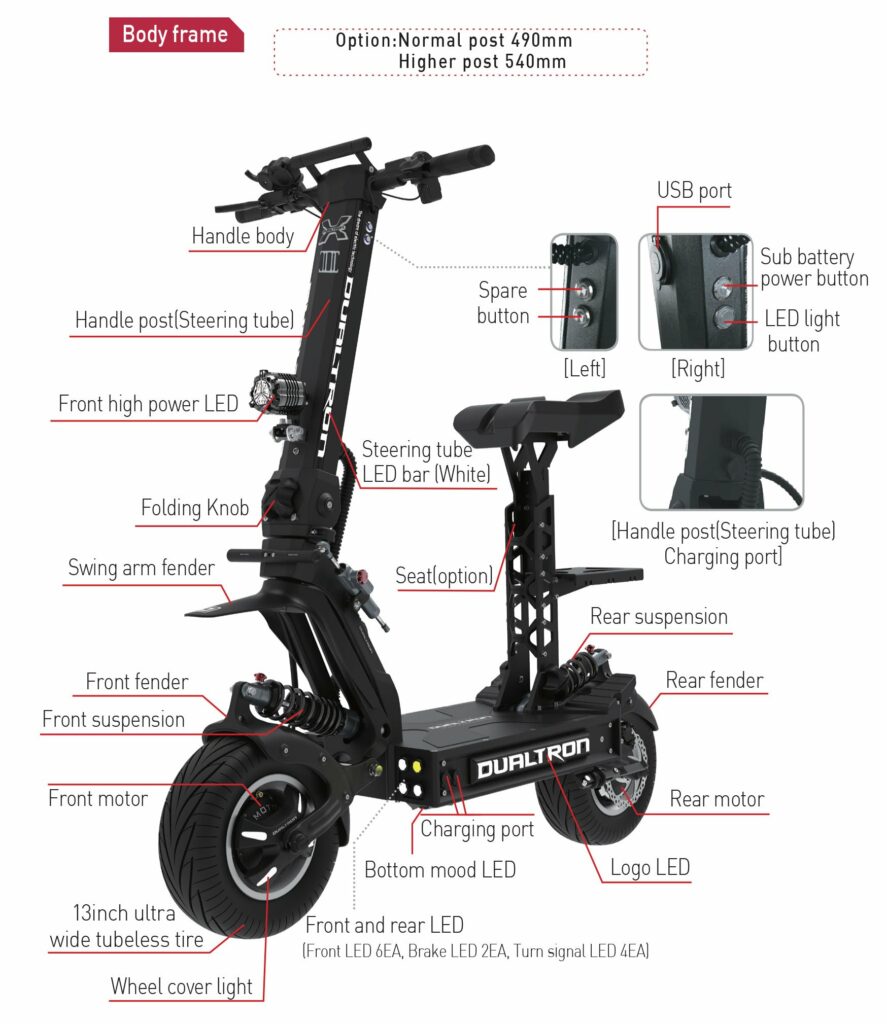 eBikescooter Real Road Test: Yes
Tested top speed: 99.8 kmh

*

Tested range: 83.8 km

*
*

eBikescooter real test in normal weather condition in mixed Mixed driving and an 75 kg rider.
(max speed as well as city driving)
SPECIFICATIONS
| | |
| --- | --- |
| Model Type | Dualtron X II (LG 3500, 72V, 42 AH) |
| Motor | MAX 8,300 watt BLDC dual hub motor |
| Battery | 72 volt  –42 Ah –  3,024Wh – LG 3500 cells |
| Charge Time | 24 hours 1 standard charger, 12 hours 2 standard, 8 hours quick charger |
| Max Range (range may vary depending on rider weight and road conditions) | Up to 150 km |
| Max Speed | Up to 110 km/h (capped to 25 km/h) |
| Climbing Grade | 70% or 35 degrees depending on rider weight and state of charge |
| Tires | 13 inch ultra wide tires |
| Braking System | Hydraulic brakes with ABS standard and 160mm disks.  Front and Rear Brakes + Electric Brakes |
| Suspension System | 19-step front & rear hydraulic adjustable suspension for bike tuning |
| Max Load | 150 kg |
| Scooter weight | 66 kg |
| Unfolded size (length, width, height) | 1305 x 632 x 1250 mm |
| Folded size (length, width, height) | 1305 x 350 x 780 mm |
| Product Material | Frame and Handle are aviation grade 6082-T6 aluminum alloy, the shaft is SCM440 steel, and plastic covers |