Semi-hydraulic calipers with bracket fits Mercane WideWheel PRO for REAR wheel
Please notice, this is an aftermarket fit. The Calipers is not original Mercane spare parts. Need some adjustment.
But the conversion works nicely as an huge improvement over the standard WideWheel calipers.
although it is a very(!) tight fit.
Choose the smaller adapter that comes with the brake calipers marked  F160/R140 ( we ship one set with the correct 2.pcs) and file off ca. 1mm of the plane metal around the threaded holes where the brake meets the adapter. Make sure you don't round off or taper the surface. I managed to do this by placing the file flat on the table and using the adapter on the file not vice versa. You could do the same thing with sandpaper. Always check if you aren't taking off too much by fitting it on the scooter. When there's no more room between the mounting and the brake your work is done. Why do this: To let the brake pads grip more on the rotor. In my case about 95% of the pad surface has contact (comparable to the original brake pads).

If there isn't enough clearance between rim and brake housing file off just the tiniest bit without touching the seal (around the screw). For me it works without doing this! It's a tight fit but there is enough clearance for it to not rub.

Bolt them on ( remember to use Loctite or bolts with Loctite on.

Adjust brake

Install done and you are ready for testing
The brake caliper bracket that fit is the normal front version F160/R140 below image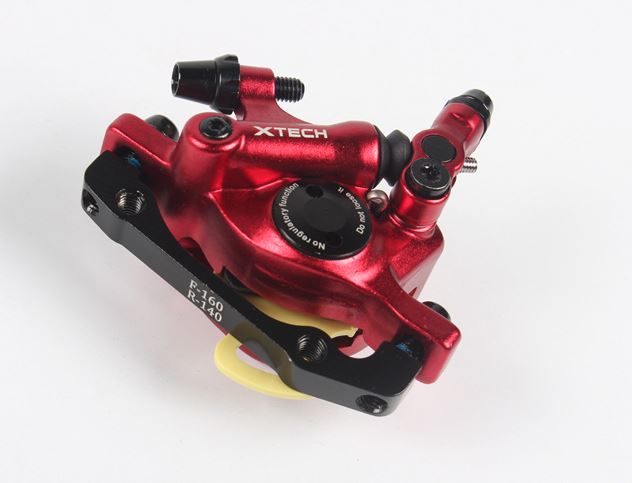 Find your brake pads here LINK
Pictures and details is found on Redit Read more HERE